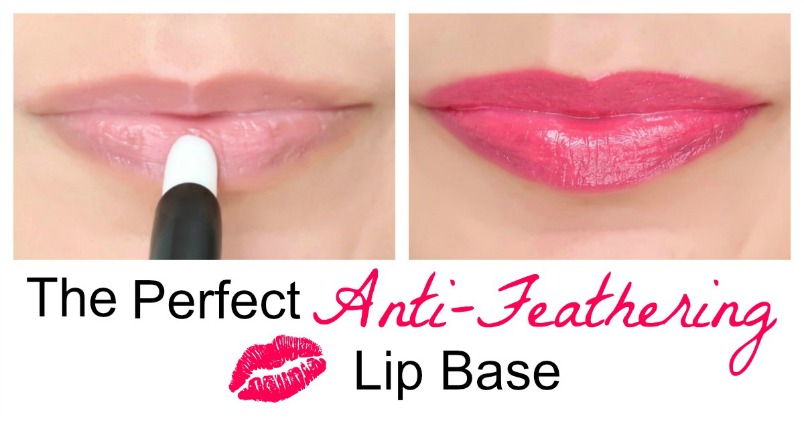 Hey beautiful, affiliate links are provided to help you find the products mentioned in this post.
What's The Secret To Creating A Smooth, Anti-Feathering Lip

Base?
Ever put on the perfect lip color, only to find it doesn't stay on as perfectly as you'd like?  First, it sinks into your little lip creases.  Then you notice you have little flakes building up on your lips.  To top it all off, the color somehow ends up outside of the lip line.   At this point, you might be asking yourself, "What's the secret to a smooth, anti-feathering lip base?"
Well there's a few steps, which I'll explain in a bit.  However, the secret ingredient to creating a smooth, anti-feathering lip base is….primer!  
Check out my favorite lip primer!
That's right, they make primer for your lips, and it works!  Just like you prep your face for foundation, you can benefit from priming your lips.
So without further ado, here are the steps to your perfect lip base.
Steps To Creating The Perfect, Smooth, Anti-Feathering Lip Base
Beauty For Real LIP REVIVAL Exfoliating + Hydrating Lip Scrub
Step 1 – Exfoliate
Have you ever had a lip product get flaky or crumbly on your lips?  That can be caused by dead skin cells.  Ewwww.  Having dry, flaky skin just doesn't create a good base for lip color.  Those little flakes can smear the lip color outside your lip line.
You don't have to exfoliate your lips every time you use lip color.  You can do this once a week or whenever you feel like you need it.  Exfoliating gets rid of that dry, flaky skin that you don't want mixing with your lip color.
You can use any lip scrub you'd like.  Sometimes I like to make my own by mixing a little raw cane sugar with some olive oil.  It leaves your lips so smooth and soft.  Just massage the scrub onto your lips for a few seconds.  Rinse and pat dry.
Yes to Coconut Naturally Smooth Lip Balm
Step 2 – Moisturize
The second step is to moisturize.  You want to use a good lip balm that actually moisturizes.  My absolute favorite is Say Yes To Coconut Naturally Smooth Lip Balm.  It's AH-mazing!  This is the only lip balm I don't have to keep reapplying every 20 minutes because it actually works.
You'll want to let the lip balm soak in for a couple of minutes before moving on the the last step.
Mac Prep + Prime Lip Base
Step 3 – Prime
Alright, the moment we've all been waiting for.  It's time to prime!  Oh dang, that rhymes!
I love using lip primer because it creates a smooth surface by filling in the creases of the lips.  It also helps the lip product adhere to your lips, making it less likely to feather or bleed outside the lip line.    
Primer enhances the color of your lip product too.  I don't know how it does it, but somehow my lip color tends to look more intense and vibrant when I use a primer. 
There are many lip primers to choose from.  I've used the MAC Prep + Prime Lip base for years.  It's a really good primer, which is why I haven't really tried anything else.  It looks kind of like a lip balm and it goes on clear.  You just apply it to your lips after your lip balm and wait for it to dry.  Once dry, you can go ahead and apply your lip color.  You are now ready to take over the world!  
The Perfect Base For Any Lip Product
So there you have it – the steps to creating a smooth, anti-feathering lip base.  It's amazing how much of a difference this makes.  You can follow these steps for any tinted lip product, including lipstick, lip balm, lip stain and lip gloss!   So give this a try next time and say goodbye to flaky, feathering lip color for good!
Did you know you can also PRIME YOUR LASHES?!
Related posts: