Hey girl, affiliate links are provided to help you find the products mentioned in this post.
Makeup And Flash Photography
Makeup and flash photography can be a little tricky sometimes.  You know what I'm talkin' about, right?  No?  Let me elaborate.
So it's Friday night.  You're going out with your friends.  Ohhhh yeaaaahhh!  It's gonna be fun and you know there will be plenty of photos being taken for Instagram.  Your makeup has to be on point tonight.  And it is.  It's a masterpiece! 
The bar is dark, so the camera flash is going off like you're a Hollywood celebrity walking the red carpet.   You cannot wait to see your amazing photos.
The next morning, you log in to Instagram.  Then, you see it. 
The ghost. 
AHHHHHHHHHHHHHH!!!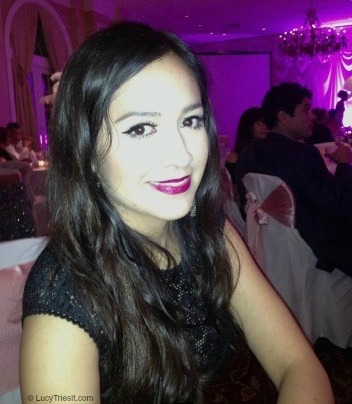 WTF.  What the fudge?!  Your makeup looked amazing last night.  It was flawless!  So why the heck do you look like Casper the friendly ghost?
You have become the victim of makeup flashback.  Don't worry, we've all been there.  
So how do you prevent makeup flashback? 
How To Avoid Flashback
You might be thinking that makeup and flash photography can't get along, but I've got some tips and tricks that will help reduce that flashback.
Tip 1 – Wear The Right Shade
This one seems pretty obvious, but it's worth mentioning because maybe, just maybe, I've worn the wrong shade before.  Oops.
If your foundation is even just slightly lighter than your body, the shade difference may be exaggerated in a flash photo.  
Another thing to consider is the undertone of your foundation, especially if you have yellow undertones.  I have noticed that if I wear a neutral undertone foundation, it shows up kind of grayish/white in flash photos.  
Tip 2 – Stay Away From SPF
So now that you have the right shade, make sure it has no SPF.  SPF foundations tend to cause a white cast in flash photos because the SPF reflects light.  The flash from the camera will be reflected back and cause your face to look lighter than your body. 
Some good  foundations with no SPF include Nars Sheer Glow and Nars All Day Luminous Weightless Foundation.
Nars All Day Luminous Foundation
Maybelline Fit Me Foundation
NARS Sheer Glow Foundation
hhhhh
rhttriewurueiorueriuegr
Psst… Check out my flash photography test for the Nars All Day Luminous Weightless Foundation!!
Tip 3 – Set With A Colored Powder
Probably one of the best tips for makeup and flash photography to get along is setting your foundation with a pigmented powder.  This is especially helpful if you decide to ignore my "no SPF" tip.  Using a colored powder sort of counteracts the SPF. 
It's not going to be 100% perfect, but it can significantly reduce the flashback.  I like using the MAC Select Sheer Pressed Powder because it comes in different shades.  I also have my eye on the SACHA Buttercup Setting Powder and plan to try this one soon.  
MAC select sheer pressed powder
L'Oreal Paris True Match Powder
SACHA Buttercup Powder
THIS POWDER is also very good for flash photography!
Whatever you do, do not use a white/colorless powder.  Those can give you bad flashback when used improperly.
You can see what I mean below.  In the photo on the left, my face has a white cast over it.  You can even see the powder reflecting above one of my eyes. 
Tip 4 – Use A Makeup Sponge
If your face is too powdery, it can cause flashback.  Using a damp makeup sponge to apply your powder can eliminate that powdery look, therefore reducing the flashback. 
beautyblender Original
Real Techniques Makeup Sponge
Ecotools Eco Foam Sponge Duo
Tip

  5

  

– Set With A Makeup Spray
Piggybacking off of the above, you can also use a setting spray to eliminate the powdery look.  I currently love using the L'oreal Setting Spray or the Urban Decay DeSlick Makeup Setting Spray.
Skindinavia Makeup Finishing Spray
Urban Decay Makeup Setting Spray
L'Oreal Infallible Setting Spray
Curious about the L'Oreal Setting Spray?  Need a more detailed review?  CHECK IT OUT HERE!
Step 6 – Use Bronzer
Bronzer also helps to counteract the flashback.  I've noticed that the more tan my makeup looks, the less likely it is to give me "ghostface" in photos.
NARS Bronzing Powder
N.Y.C. New York Bronzer
Rimmel Natural Bronzer
Tip 7 – Just Let It Settle In
This might seem like a weird tip, but hear me out.  I seem to get less flashback when I've had my makeup on for a couple of hours.  Now I'm no makeup scientist, but I think I'm on to something here.
My theory is that when your foundation has been on for a while, it starts mixing with your natural oils and becomes slightly darker.  Also, with the natural oils coming through, your face becomes less powdery.  This may only work if you have oily-prone skin though.
Don't Let Makeup Flashback Ruin Your Night!
Listen girl, don't be ashamed if you've been the victim of the dreaded "ghostface" in flash photos.  You are not alone.  By applying these tips and tricks, you'll find that your makeup and flash photography will get along much better.
You may find that applying even one of these tips may be all you need.  If you want to be super protected, you could even try them all at once.  
So give these suggestions a try next weekend.  You're going to look amazing!
Related posts: