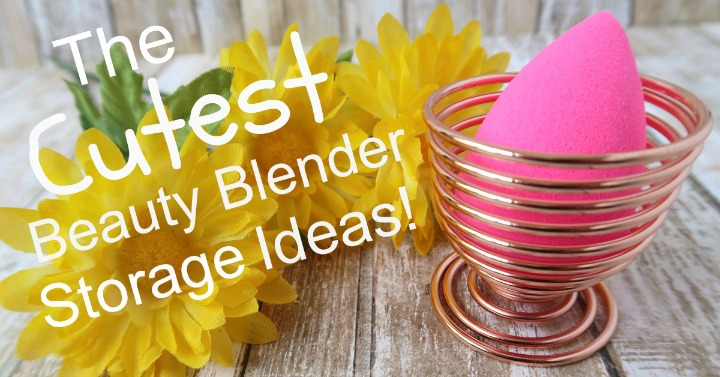 Hey girl, affiliate links are provided to help you find the products mentioned in this post.
Cute Beauty Blender Storage Ideas That Are Also Functional!
Ok, so take a look at your vanity right now.  You have pretty holders to store your beloved makeup brushes.  You have a special drawer for all your precious makeup.  But where does your beauty blender go?  Hmm?
Do you toss it in your makeup drawer unprotected?  Or maybe you store it in a ziplock bag without ventilation.  Perhaps you just throw it on your vanity to gather whatever dust or dirt is on the surface.  Yuck.  I bet you've never thought about this, but your beauty blender needs its own special little place.
These beauty blender storage ideas don't just look cute, they're also functional!  Plus, they're great for other makeup sponges too.
How To Store A Beauty Blender
Your beauty blender should be stored in something that will keep it away from dirty/dusty surfaces and that also provides proper ventilation.  Ventilation is important because it helps prevent the growth of mold and bacteria.  You don't want that stuff on your face, unless you like acne.
Cute Beauty Blender Storage Ideas
IBEET Beauty Makeup Sponge Holder
IBEET Makeup Sponge Holder
I have this one in rose gold and it looks super cute and decorative on my vanity.  It's perfect because it will hold your beauty blender whether it's wet or dry (see pictures below).  It's nice and sturdy, so I'm pretty sure this will last me forever.

Blenderelle Makeup Sponge Holder
Blenderelle
I also own this one.  Let me just say I love it!  It kind of looks like a diffuser on your vanity.  It offers proper ventilation, so you can even store a damp beauty blender in it.  Plus it includes antimicrobial technology for some added protection.
What I love about this holder is that you can completely enclose your makeup sponge inside, so it's perfect when you travel.  It protects your beauty blender from getting damaged in your makeup bag and it'll look pretty darn stylish on your hotel room vanity.

Jeweled Makeup Sponge Holder
I think this one is just so pretty.  I really love the jewel design because it makes it look super girly.  It's the perfect beauty blender holder to place on your dresser if you want something that looks fancy and chic.
Cute Chicken Feet Makeup Sponge Holder
Cute Chicken Feet Makeup Sponge Holder
Now these are just adorable!  It's a super simple design that provides a lot of ventilation and keeps your beauty blender away from dirty surfaces.  Plus, it makes it look like your beauty blender has lil' chicken feet.  That just makes me chuckle.
Can you say, "easily amused?"
They come in an assortment of pastel colors.
If you don't like pastel colors, you can find these in rose gold too!
These holders are made of silicone.  They're super cute because they look like little flowers.  They work with a variety of sponges and are really affordable.
4pc Silicone Holders for Makeup Sponges
CosmeCup 4pc Silicone Holders
If you prefer something simple, then these little holders are perfect for you.  There are ventilation holes at the bottom to allow your damp beauty blender to dry.  They come in a set of four, so they're great if you have multiple makeup sponges.
byAlegory Acrylic Beauty Sponge Organizer
How To Store Multiple Makeup Sponges
byAlegory Acrylic Beauty Sponge Organizer
This is a very nice option if you have multiple makeup sponges.  It's perfect because it can hold different sizes.  If you have those itty-bitty beauty blenders, this one will accommodate those too.
Clear Acrylic Makeup Sponge Organizer
Clear Acrylic Organizer
If you prefer an enclosed organizer, you'll want to check this one out.  It has space for four makeup sponges on one side and it holds flat makeup puffs or sponges on the other side.  Even though it's enclosed, it has ventilation holes.  Since it's covered, it will keep dust away.
Store Your Beauty Blender Somewhere Cute And Functional
So there you have it – the cutest and most functional beauty blender storage ideas! Having a proper place to store your makeup sponge keeps it away from unsanitary surfaces.  Plus you can also ensure that it gets proper ventilation when it's drying, which it won't get in a closed drawer or makeup bag.
So girl, do your beauty blender a favor and give it its own special little home!
Psst…Have you tried a Wet n Wild lip stain yet?  Check out why they're so AMAZING!
Related posts: