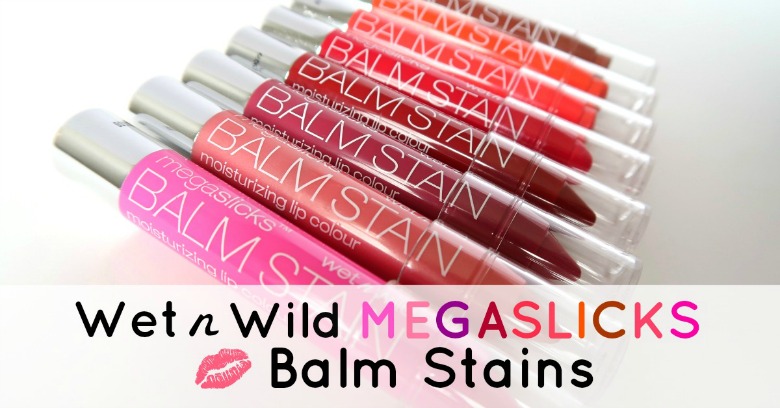 Hey Gorgeous, this post contains affiliate links to help you find the products mentioned.
Wet n Wild Megaslicks Balm Stain
Wet N Wild Lip Stain Balms Are Awesome!
Have you tried a Wet n Wild lip stain yet?  No?  Well I have a feeling you're going to want to after this.  These little drugstore gems are amazing!  I fell in love with the the Wet n Wild Megaslicks Balm Stains after purchasing my first one at my local drugstore.  
I'll be very honest, I wasn't sure what to expect.  I had my reservations, especially because I hadn't purchased a Wet n Wild product since I was twelve.
Well, those reservations went away right after my first application.  I had discovered the best drugstore tinted lip balm.  A lightweight lip balm that delivers great color payoff and leaves behind a nice stain.
And let's not talk about the super-duper cute names each shade has.  Well ok, let's talk about them.  I mean how could you not love a name like "Coral of the Story," or "See if I Carrot?"  Gosh, those names get me every time!  Can you say, "easily amused?"
Wet N Wild Megaslicks Balm Stain Formula
The Wet n Wild lip stain formula is really creamy and lightweight.  They are not waxy and glide on really smoothly.  They don't feel sticky at all.  I love that they also keep your lips moisturized. Once the lip balm wears off, it does leave behind a matte stain, so your lips will have color throughout the day, even if you don't reapply.

Are they shiny?
They're kind of shiny, but not like a lip gloss.
Does it come off easily?
If you just applied it, it can comes off easily.  It's definitely not transfer resistant.  However, the stain it leaves behind is not that easy to remove.  Once it's there, it's there for many hours.  Trust me, I walked around with stains on my arm for a whole day when I did the swatches.
Before applying my Wet n Wild lip stain, I like to prep my lips to create a perfect, smooth, anti-feathering lip base! 
Wet n Wild Lip Stain Color Payoff
The Wet n Wild lip stain color payoff is great.  Most of the them are really pigmented.  The colors are not as deep as a lipstick would be, and they're not meant to be.  Some are more pigmented than others and most won't disappoint.
The Swatches
Ok, so instead of me talking about how amazing the colors are, let me show you!  I only own eight shades, which I did swatches for below.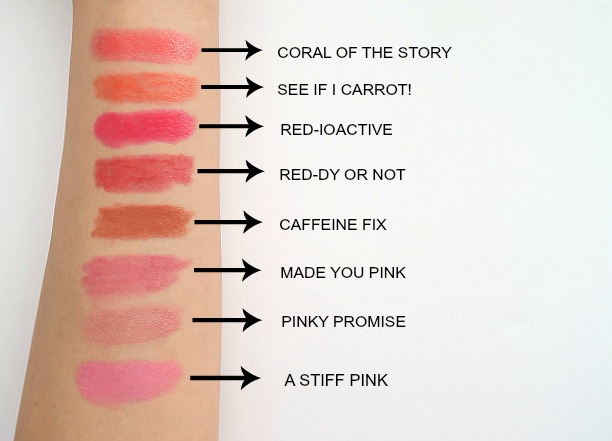 Coral Of The Story – This is the first one I ever bought – the reason for this whole love story.  It's a beautiful coral pink color.
See If I Carrot – I LOVE this one because I'm obsessed with orange lip color.  It's perfect because it's not an overpowering orange.  Since it's just a lip balm, it's not extreme.
Red-Ioactive – This is a beautiful, bright, pinky red.  Really nice for when you want your lips to do the popping!
Reddy Or Not – This is a nice, subdued, neutral red.
Caffeine Fix – I use this one the most.  It's a pretty tan color that is not too nude for my medium-tan skin.  It's just right and great if you want a more neutral look.
Made You Pink – This is a purply, rosy pink color.
Pinky Promise – This is probably my least favorite.  It's very sheer and frosty.  There isn't much tint to it as it hardly shows up on my lips.
A Stiff Pink – This is a bright, blue pink.  It's like a Barbie pink color.
My top 3 favorite shades are Coral Of The Story, See If I Carrot, and Caffeine Fix!
Any Cons?
Ok, so sometimes the stain left behind seems like different shade than the original color.  To be honest, that doesn't bother me too much.
Also, like many stains, if your lips are super dry, it can seep into the little cracks on your lips. I like to apply a lip primer underneath the balm stain to help prevent that.
The stain can also become uneven.  For example, it can sometimes wear off quicker on the inner part of your lips, staying more pigmented around the lip line.  That makes it look like you just lined your lips lol.  If that happens, you can simply reapply a little bit to even it out again.
The Best Drugstore Tinted Lip Balm!
Overall, I love the Wet n Wild Megaslicks Balm Stains!  I feel like you get a great quality product at a super affordable price.  These little balm stains are perfect for when you want a pop of color that doesn't feel too heavy like a lipstick.  Plus, since they do leave a nice stain on the lips, they're great for those occasions when you want to keep the reapplication of your lip color to a minimum.
So make sure to give these a shot!  Once you try one, I bet you won't be able to resist getting them all!
Ever wondered what's the blackest mascara ever?
Related posts: