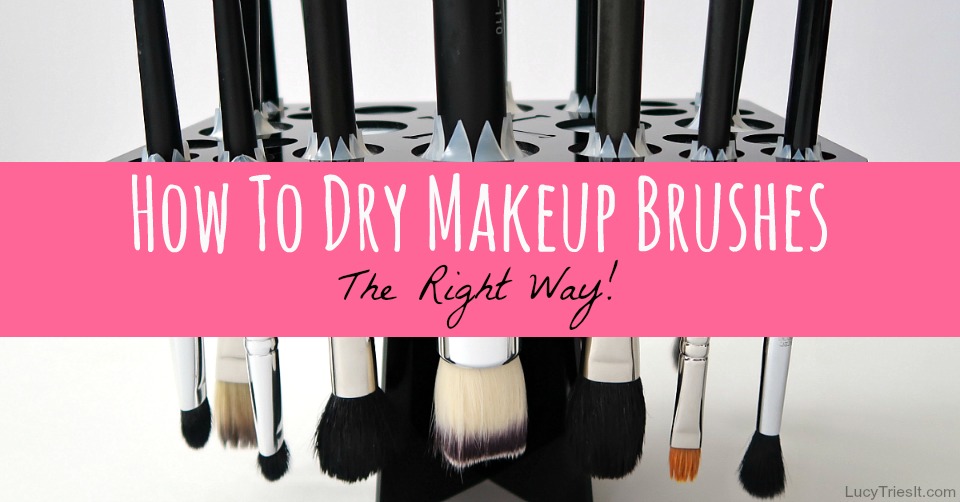 Hey girl, this post contains affiliate links to help you find the products mentioned.
How To Dry Makeup Brushes The Right Way
Have you ever wondered how to dry makeup brushes?  You know what, I bet you haven't.  I never did.  I would just wash my brushes, squeeze the water out and throw them back in the brush holder.  Or I would lay them flat on a towel.
Sound familiar?
It's such a simple thing that you wouldn't think there's anything special you should do.  I mean, you're just drying makeup brushes, right?
What could go wrong?
Why It's Important To Dry Makeup Brushes The Right Way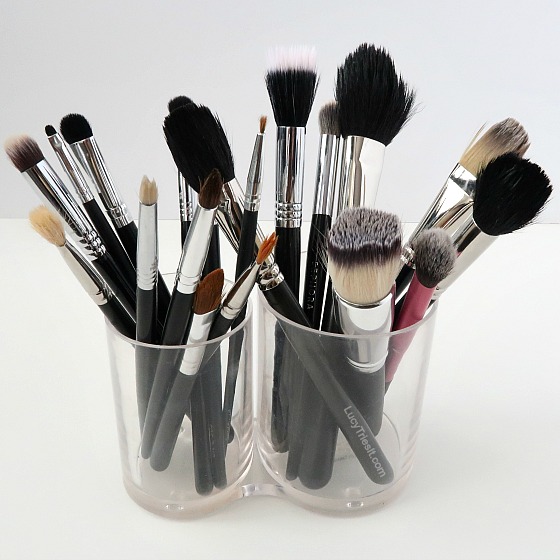 First let me start with a little lesson on makeup  brush anatomy.  There are three main parts to most makeup brushes; the bristles, the ferrule, and the handle.
The ferrule is the metal part that holds the bristles and connects to the brush handle.  The bristles are held together in the ferrule with glue.
When you're washing your brushes, water can get inside the ferrule.  If you dry your makeup brushes with the bristles facing up, the water can seep deeper inside.
In the long run, this can weaken the glue and cause you makeup brushes to start shedding and eventually fall apart.
Girl, I swear I'm not being dramatic!  Look at my poor little brush below.  I didn't take good care of it.  This is what it used to look like.
R.I.P. beloved brush…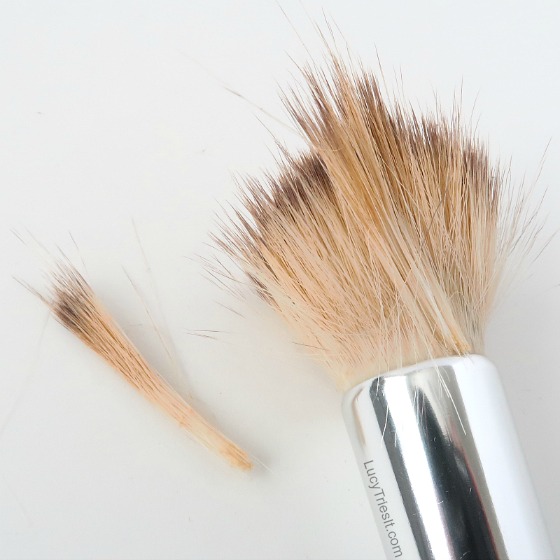 Don't worry, I already replaced it.  But the moral of the story is, you gotta make sure water does not remain inside the brush.  If you dry your makeup brushes correctly, they can last longer.
The best way to dry makeup brushes is upside down!  By drying them upside down you can prevent water from seeping inside.  Plus you can ensure that any water that did get in while washing can seep right out.
You're going to need a makeup brush drying rack like this one.
This drying rack is great because it's specifically designed to hold your wet makeup brushes upside down.
It's quite small and compact, but holds 26 brushes of different sizes!
Makeup Brush Drying Rack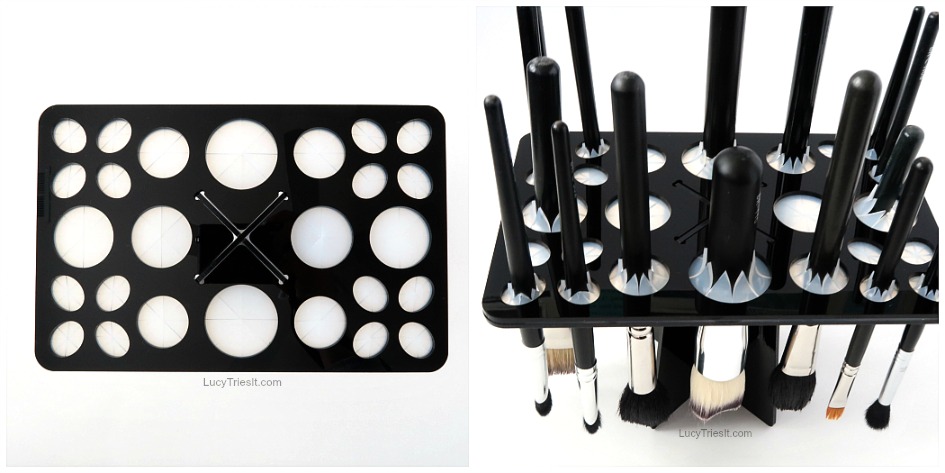 The top of the rack has holes lined with flexible rubber inserts which are meant to hold your brushes firmly in place.  The inserts have slits so you can just poke your brushes through them.  You can fit 4 large, 6 medium, and 16 small brushes.
I really love using this rack because it prevents the clutter of drying brushes flat on a counter.  Plus, it's collapsible, so you can easily store it in a drawer when you're not using it.
I mean sure, you can try making your own contraption using coat hangers, chairs, hair bands, etc.  Or you can make life easier on yourself and get a makeup brush drying rack for a reasonable price!
How To Dry Makeup Brushes Correctly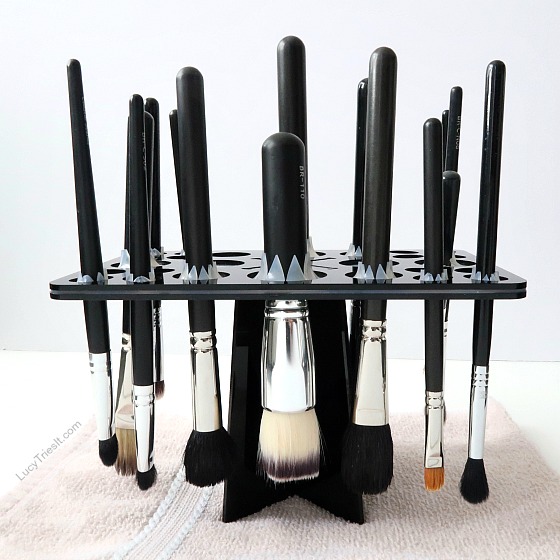 Drying makeup brushes upside down on a rack is ideal because it allows air to circulate around all the bristles.  This helps to dry makeup bushes faster.
When you lay your brushes flat to dry, one side isn't getting any circulation.  I feel that water can still stay trapped inside the ferrule that way too.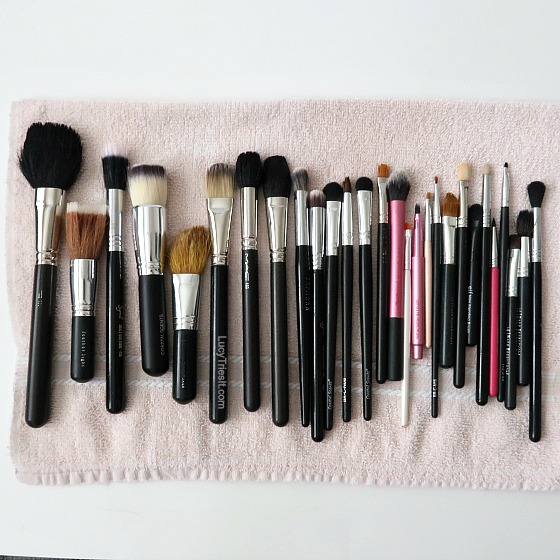 Also, have your makeup brushes ever dried in a funny shape?  Not cool mannn.
By drying them upside down, you can prevent the bristles from getting  misshapen.   When they're upside down, gravity just kind of does its thang and they always end up the perfect shape!
Now don't try to just lean a brush upside down against something.  That will cause a misshapen brush head because the bristles will be supporting the weight of the brush.  Hanging is important, which is why a makeup brush drying rack really comes in handy.  I got mine from Amazon for only $11.99, but sometimes it's cheaper.  You can check the current price here.

Air Dry Makeup Brushes
I have found the best method is air drying.  I would not use a blow dryer to try and speed up the process because that can damage the bristles and cause them to dry misshapen.
Oh and the same goes for direct sunlight.  Just like with other things, it can cause your bristles to fade.
So you just basically want to place your makeup brush drying rack in an airy room away from sunlight.
The Best Way To Dry Makeup Brushes
Alright girl,  now you know how to dry makeup brushes the right way!  By hanging them upside down, you allow air to circulate the bristles.  You also prevent misshapen brush heads, water from weakening the glue, and shedding problems – thus extending the life of your makeup brushes!
So the next time you wash your brushes, don't forget to dry them the right way and point those bristles downward!
But where should I dry my beauty blender?  Check out these awesome beauty blender storage ideas for drying your sponges!
Related posts: