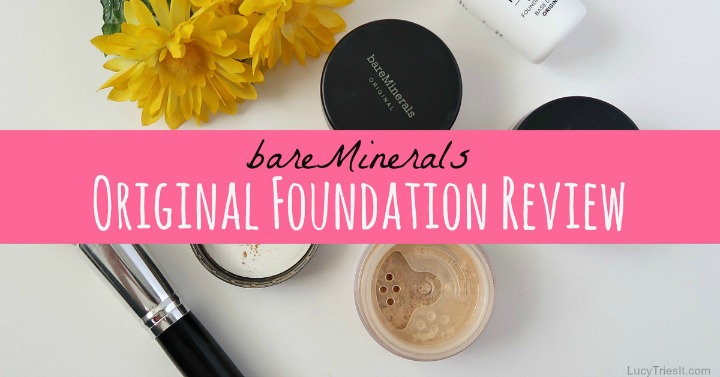 Hey girl, affiliate links are provided to help you find the products I use.
Bare Minerals Original Foundation
The Best Mineral Foundation For Acne Prone Skin – bareMinerals Original Foundation
The bareMinerals Original Foundation is the best mineral foundation for acne prone skin.
My skin is pretty sensitive and will break out over anything.  I have to be very careful with products that go on my face.  Many foundations will cause me to break out, especially if I wear them repeatedly.  However, the bareMinerals Original Foundation is one that I can wear every day without having any acne issues.
Maybe it's the best mineral foundation for acne because it's made with only five mineral ingredients.  That's it.  There's no parabens, binders, or fillers.  It's non-comedogenic, meaning it won't clog your pores.  It's also considered hypoallergenic, so you can prevent breakouts due to irritation.
You may also like: Mineral Makeup and Oily Skin – How To Make Your Foundation Last all Day!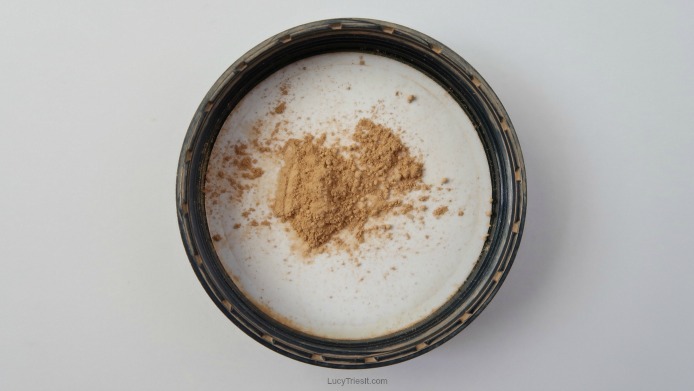 Best Foundation With SPF For Acne Prone Skin
Now I don't know about you, but SPF scares me.  You know why it scares me?  Acne, that's why.
Yup, many products with SPF will cause me to break out.  However, we are talking about the best mineral foundation for acne here!  Since the bareMinerals foundation has a natural, mineral based sunscreen, I don't have any issues with it at all!  
The natural SPF also makes it perfect for daytime wear.
How To Apply bareMinerals Original Foundation
STEP 1 – You're going to use the lid to swirl some of the foundation into your brush (I'm using  the Coastal Scents Bionic Flat Top Buffer Brush).
STEP 2 – Tap off any excess powder from your brush.
STEP 3 – Buff the foundation onto your face in circular motions.
Light – To – Medium Coverage
The bareMinerals website states that this is a sheer to full coverage foundation.  In my opinion, it's not full coverage.  However, I like that about it.  You can get up to a nice medium coverage, which is perfect for everyday wear.  It never looks cakey.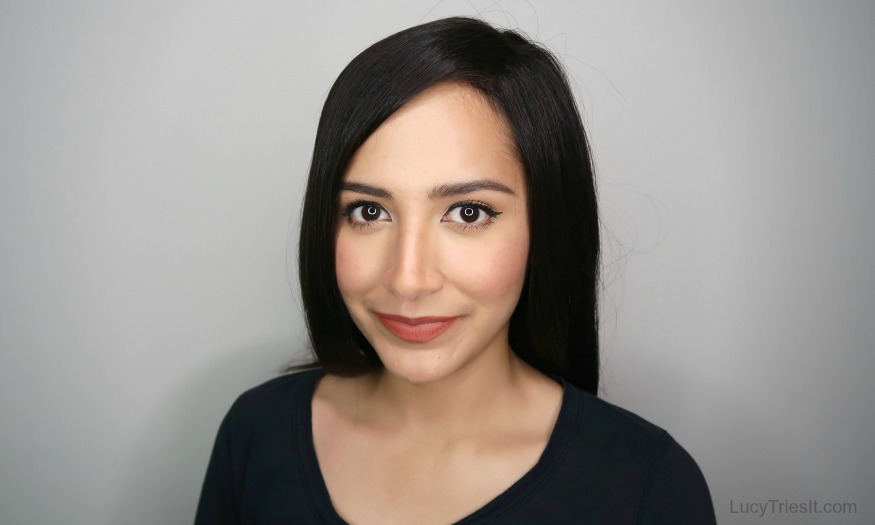 Luminous Finish
The bareMinerals original foundation has a beautiful, luminous finish.  You don't have to worry about looking flat with this one.  
Is bareMinerals Original Foundation Good For Oily Skin?
If you suffer from acne breakouts, you might also be suffering from oily prone skin.  So you're probably wondering if it will it hold up against your oilyness.
Well although this might not be the very best foundation for oil control when worn on its own, I still think you can make it work!  
I have oily prone skin and I wear it every day.  It just needs a little help to make it through the day.  Primer is a must, and so is a setting spray.  
Make sure to check out these great tips on how to make mineral foundation last longer on oily skin!
bareMinerals Original Or Matte Formula – Which One Is Better?
I have tried them both and I personally prefer the original luminous formula over the matte formula.  I actually did not like the bareMinerals Loose Powder Matte Foundation very much. 
To be fair though, I am not of fan of matte finishes in general.  And I didn't feel like the matte version controlled my oil any better. 
What Primer Should I Use With bareMinerals Original Foundation?
bareMinerals Original Prime Time Foundation Primer
My favorite primer to use with this foundation is the bareMinerals Prime Time Foundation Primer.  I like this one because it provides a super smooth, slippery  base to buff the foundation on.  I've tried other primers that don't have the right consistency so the foundation doesn't glide on as smoothly.  Plus, this one doesn't break me out either.  So it's the perfect match!
If you would rather pair the bareMinerals foundation with a primer specifically made to fight acne, they also make the Blemish Remedy Mattifying Prep Gel, though I personally haven't tried this one yet.
bareMinerals Original Loose Powder Foundation Packaging
Great news, it comes with a sifter!  So you can easily travel with it without spilling powder all over the place!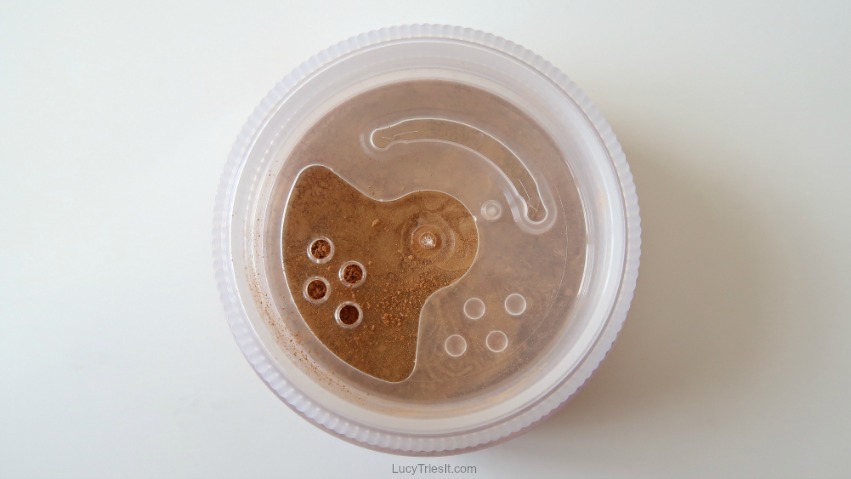 Does the bareMinerals Original Foundation Cause Flashback In Photos?
Well since it has SPF 15, it can cause some flashback.  SPF 15 is pretty low though, so the flashback is actually not that bad.
You definitely want to wear the right shade and undertone to lower the chances of any flashback.  For reference, I have medium skin with yellow undertones and I wear the shade Golden Medium.
To counteract any SPF flashback, I recommend setting with a colored powder.  I like using the Mac Select Sheer Pressed Powder in NC 30.  
The Flash Photo Test
The picture below was taken in a pitch black room with my point and shoot camera.  I'm wearing only the foundation.  In my opinion, the flashback is not that noticeable here.  My face doesn't look ghastly!
However, I do find that the flashback is sometimes a little more noticeable, so beware and take proper precautions.
 Check out these great tips on how to prevent makeup flashback!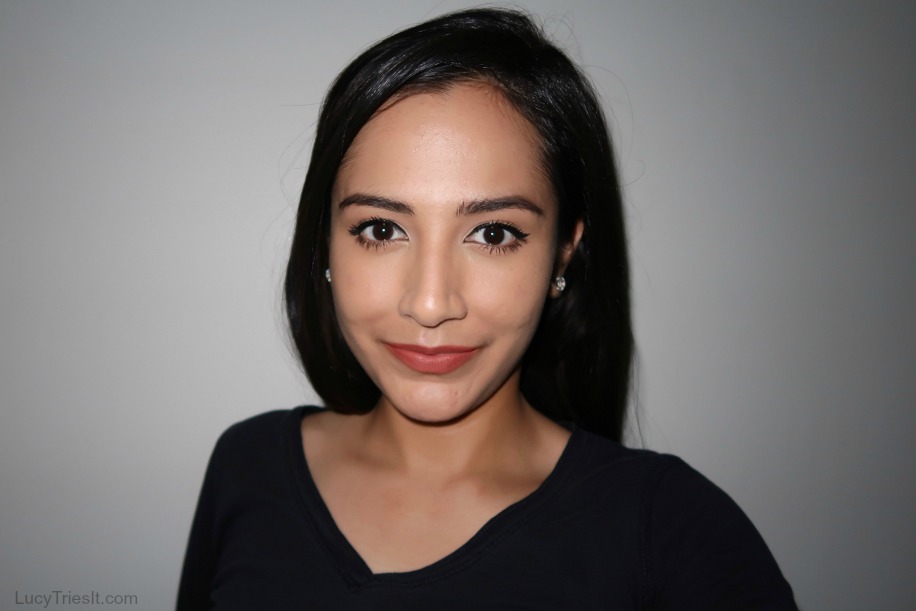 Any Cons?
Honestly, I don't really have any major cons for the bareMinerals Original Foundation.  The only cons are some of the things I've mentioned above.  There can be a little bit of flashback and it's not the best for oily skin when worn by itself.  
However, these cons are no big deal when you've got the best mineral foundation for acne prone skin! 
You Can Try Many Of These Products In The Starter Kit!
bareMinerals Get Started Complexion Kit
If you don't want to buy full sized products yet, you can try some of the products I've mentioned in the bareMinerals Get Started Complexion Kit.
It comes with the Prime Time Foundation Primer, Original Foundation, Matte Foundation, Warmth All Over Face Color, Mineral Veil Powder, Flawless Application Face Brush, and a Makeup Case!
The best part is you get all these products for a pretty reasonable price!
bareMinerals Original Foundation – The Best Foundation For Blemish Prone Skin!
Well girl, that's it for my bareminerals original foundation review.  I try a lot of foundations because I'm a curious little makeup junkie, but bareminerals original foundation is the one that remains a constant in my makeup drawer.  That's because it really is the best mineral foundation for acne prone skin and I can wear it repeatedly without any concerns.  
You can rest assured that I have done some extensive research on this one.  I've been using it for 10 years!
Honestly, if you've been looking for a good everyday foundation that doesn't clog your pores, this one is worth a shot! 
Related posts: