Hey girl, affiliate links are provided to help you find the products mentioned in this post.
L'Oreal Paris Voluminous Original Mascara, Carbon Black
What's The Blackest Mascara Ever?
Have you ever stopped and wondered, " What's the blackest mascara?"  If you have short, thin, light lashes like me, you probably have.  When I wear mascara, I expect my lashes to really stand out.  Don't you hate when you wear mascara that still leaves your lashes missing that extra oomph?  Well that extra oomph comes from the pigment.  I like dramatic lashes that don't just have the volume and length, but also the most intensity.  I like them to be black as midnight.
So what's the blackest mascara out there?  The L'OREAL Voluminous Mascara in Carbon Black is by far the darkest black mascara I have ever tried.  Let me reiterate.  It's not just the blackest drugstore mascara, but the blackest mascara ever!  I've tried high end mascaras that don't even come close to this one.  Take a look at some examples below.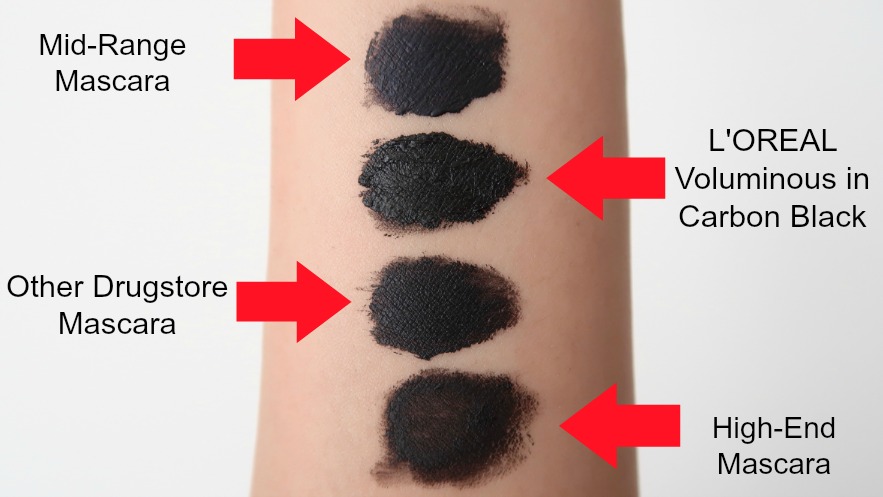 For each swatch I used the blackest shade the mascara came in.  As you can see, the L'Oreal mascara in carbon black beats them all in terms of pigment.  It delivers the most intense black.  I noticed it's also the thickest one.  I didn't have to use as many layers of it as I did the others.  Because of this I also believe it's one of the best volumizing mascaras.
The Test
Now it's time to see it in action!  Take a look at the picture below.  You can see the difference between my bare lashes and the ones with the L'Oreal mascara.  My lashes are not only looking thicker and longer, but also a lot darker.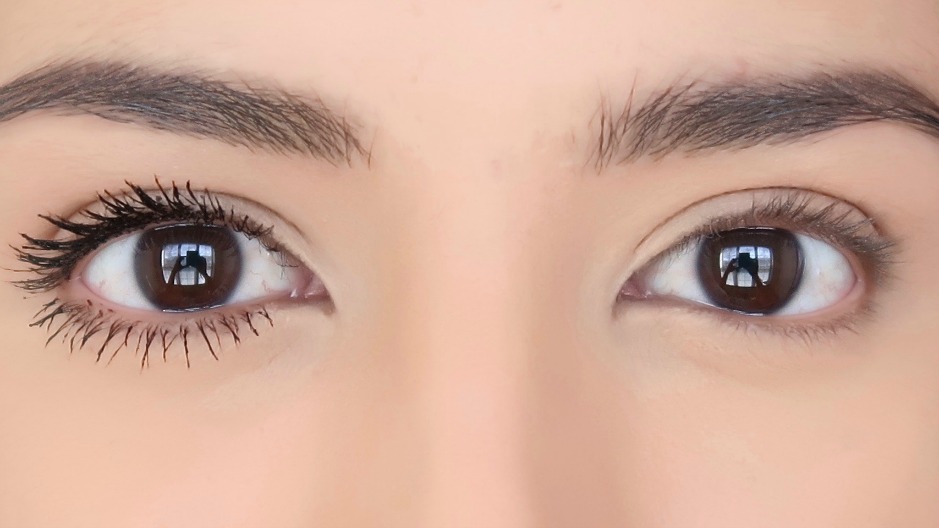 If you want even more drama, try it with THIS PRIMER!
What's The Difference Between "Blackest Black" And "Carbon Black?"
I don't know the exact difference in ingredients, but I know that carbon black is the darkest one.  So if you want drama, you'll go with carbon black.
What's The Formula Like?
It's definitely not a "wet" formula mascara.  It's very thick.  When you first open a tube, it will seem pretty light, but it will get thicker.  I actually like it better after the bottle has been open for a few days.
This is not a waterproof mascara.  So if you're having a day when your eyes are super watery, you'll want to opt for the waterproof version (though I haven't tried it so I don't know how it compares in terms of the pigment).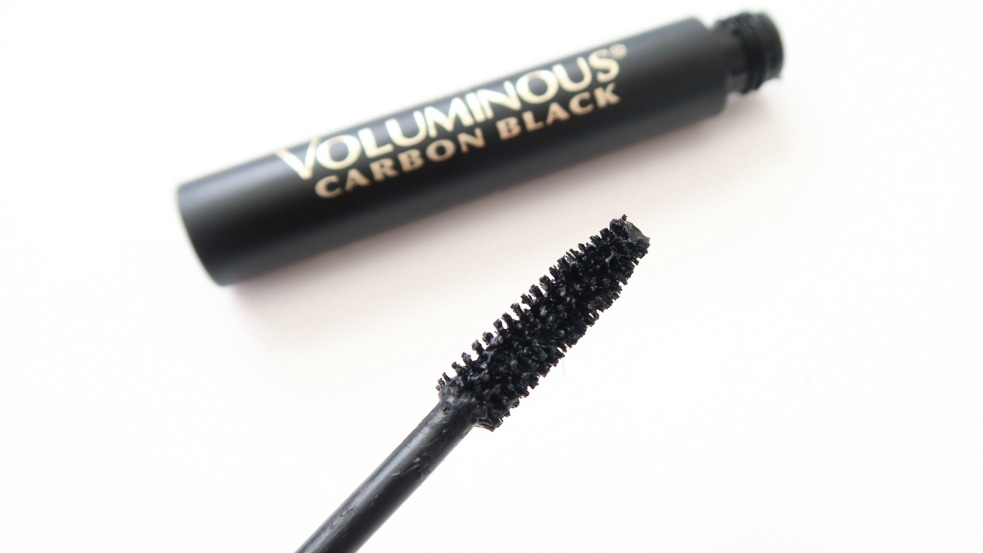 It's Just The Best Ever Mascara
Doesn't Fade, Flake Or Smudge Throughout The Day
When I first tried it I worried that the dark pigment would cause it to smudge more, but it doesn't!  It lasts all day without fading, flaking or smudging!
Any Cons?
Sadly, it doesn't hold a curl as well as I would like it too.  It holds a little curl, just not the dramatic curl I like.  But to be fair, not many mascaras ever do for me because my lashes are super straight.  I will say that it makes up for it by being so pigmented because it still brings attention to my eyes even if my lashes are not curled.
Docolor Eyelash Comb
Secondly, it can get a little clumpy if you over do it.  This is not a big deal for me because I like big, thick lashes, so if it gets clumpy it adds to the thickness.  I kinda dig that, but I know some people don't so I wanted to make sure I shared that.  However, you can easily prevent that with an eyelash comb.  Also, you don't even need that many layers to get the intensity.   You would have to really overdo it.
The Best Mascara For Dramatic Lashes
All in all, this top rated drugstore mascara beats out some of the higher-end products in terms of pigment and volume-building.  The best part is, it's affordable!  How awesome is it that you can get the blackest and best volumizing mascara at the drugstore!  I go through mascara pretty quickly and I'd rather not pay a lot every time I replace it.
So the next time you find yourself asking, "What's the blackest mascara for more dramatic lashes?" make sure to give this one a try!
Psst…The L'oreal Voluminous Mascara is so good it made it to my list of makeup essentials for travel!  Check out the rest of the list HERE!
Related posts: