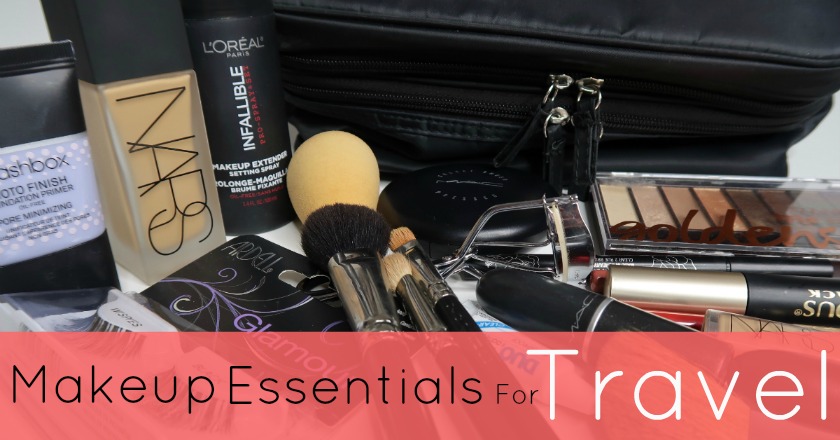 This post contains affiliate links to help you find the products mentioned.
Makeup Essentials For Travel – Why You Need To Minimize Your Makeup
Ok admit it – you're an over-packer.  When you go on vacation it seems like you pack your entire makeup collection.  Is that necessary?  No!  I'm going to provide you a list of minimum makeup essentials for travel that will give you enough to get dolled up while still keeping it light. When you travel, you have limited space to try and fit your life into.  You also have to try to not go over the airline imposed weight limits.
Listen, I've been there.  I used to pack too much.  You know what would happen?  I wouldn't even use half the stuff.  I mean think about it.  When you travel, you don't use as much makeup as you do in your everyday life.
Now, you might be stressing out because you're an over-thinker.  You come up with every little scenario where you think you'll need this makeup or that makeup.  Don't worry, I got you girl.  I'm here to help ease the stress of minimizing your makeup with this list!
First You Need A Travel Makeup Bag/Organizer!
BH Cosmetics Cosmetic Bag
I recommend using a soft makeup bag as opposed to a hard makeup case.  Makeup cases can be too bulky and add even more weight to your luggage.  It's important to have a bag that helps you organize both your makeup and your brushes.
This makeup bag is a great example of what I mean.  You can use the bottom compartment to pack your foundation, powders and blushes.  The top part has a zippered section that can be used for your pencils and it has brush holders too!  It's convenient because you'll have all your makeup essentials for travel in one spot.  The best part is, it's super affordable!
Makeup Essentials For Vacation
Photo Finish Pore Minimising Foundation Primer (Travel Size 15ml/0.5oz) by Smashbox
Primer
Primer is essential because it preps your skin and helps your makeup last longer.  This is import because you're usually out and about for the whole day when you're on vacation.  I like to pack the travel size Smashbox Pore Minimizing Primer.
Foundation
Nars All Day Luminous Weightless FoundationBuy NowYou just need one versatile foundation.  I like the Nars All Day Luminous Weightless Foundation because it offers full coverage.  It's super lightweight so it can be sheered down with a beauty blender for a more natural daytime look.  You can read more on this foundation HERE.
Nars Radiant Creamy ConcealerBuy Now
Concealer
Concealer is a must!  The Nars Radiant Creamy Concealer is my favorite to take with me because it offers medium-to-full coverage and lasts all day.  I like packing a concealer that is 1-2 shades lighter  because it serves as both my concealer and my highlight.  No need to pack a separate highlighter!
MAC Select Sheer Pressed Powder
Setting Powder
I recommend a pressed powder over a loose powder because loose powder packaging tends to be more bulky.  Also, the loose powder tends to go all over the place through the sifter which can get messy.  I like using the MAC Select Sheer Pressed Powder when I travel.  It comes with a puff, so you can eliminate the need to pack a powder brush.  Eh, eh, see what I did there.  Minimizing pro coming through!
Nars Blush/Bronzer DuoBuy Now
Bronzer & Blush
You just need one of each.  Pick a bronzer shade that can also be used to contour.  You don't need that bulky contour palette.  Oh and did you catch yourself gasping when I said just one blush?  The trick is to pick a blush that goes with any look.  What's nice is you can get both products in one compact.  The travel size Nars Blush/Bronzer Duo is perfect.  It has the Orgasm blush and the Laguna bronzing powder.  That's really all you need.
Anastasia Beverly Hills Brow WizBuy Now
Brow Product
For your brow product I recommend a pencil over something that comes in a little pot or compact because it's less bulky.  Also, it eliminates the need to pack an eyebrow brush and spoolie, since most eyebrow pencil already come with one attached.  The Brow Wiz by Anastasia Beverly Hills is a great option because it has a super fine tip which is great for defining and filling in the brows. Plus, it's retractable, so you eliminate the need to pack a sharpener.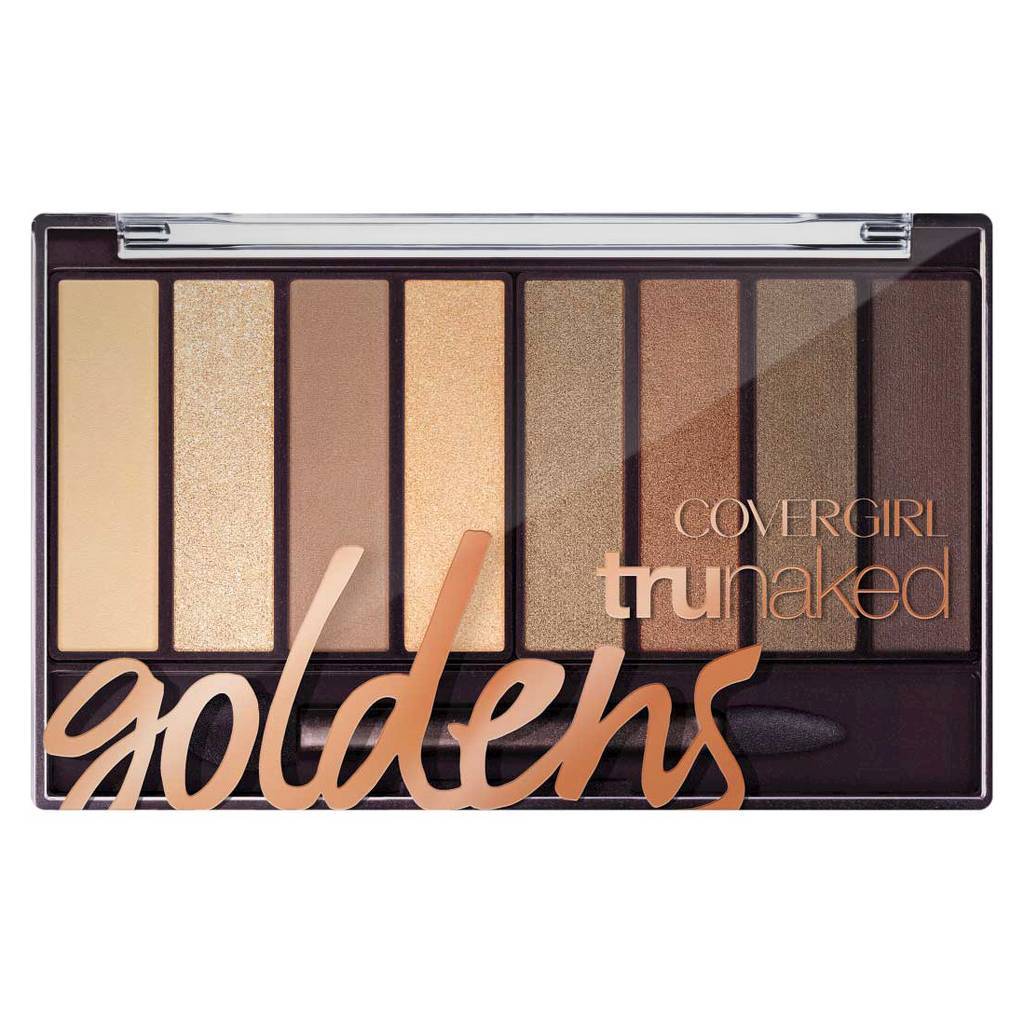 Covergirl Tru Naked Eye Shadow Palette

Eye Shadow
Put that 120 eyeshadow palette down.  You want to choose a small palette that has neutral shades that can go with everything.  I personally love the Cover Girl Tru Naked Goldens Eye Shadow Palette.  It has eight shades that range from light to dark and can be used for both daytime and nighttime looks!  You can even apply them wet for a more dramatic look.
A waterproof, liquid eyeliner pen in black is the way to go.  No need to pack your gel, cake, cushion, or paint eyeliners because they're bulkier and will require packing an additional eye brush.  Also, an eyeliner pen won't require sharpening.  My favorite is the Kat Von D Tattoo Liner.  It has a super fine applicator for the perfect wing and lasts all day.  It washes off easily with soap, so you don't have to pack a waterproof makeup remover.
L'Oreal Paris Voluminous Original Mascara, Carbon Black, 0.26 Fluid Ounce
For mascara, one tube of your favorite is enough.  I LOVE the L'Oreal Voluminous Mascara in carbon black.
L'Oreal Paris Colour Riche Lip Liner, Timeless Coral, 0.007 oz.
Lip Products
Pack one neutral and one bold lipstick with their accompanying lip liners.  Lip gloss is not necessary.   You can create a beautiful lip without adding gloss.
For my neutral lip color, I like a peachy nude.  Pairing the MAC lipstick in Peachstock with a coral liner creates a versatile lip than can go with many eye looks.  For my bold color, I usually pack a red lipstick and lip liner.  Remember, you're not packing a sharpener so make sure your lip liners are retractable.
L'Oreal Infallible Makeup Setting Spray, Travel Size
Makeup Spray
For me, makeup setting spray is essential.  When I'm exploring my vacation spot, I don't like carry a bunch of stuff with me for touchups.  Using a makeup spray helps my makeup last longer when I'm out and about being a tourist.  My favorite is the L'oreal makeup spray.  What's nice is that you can even get the travel size on Amazon!
Psst…Curious about the L'oreal makeup setting spray?  READ MY FULL REVIEW HERE
Beauty Blender
The beauty blender is great because you can use it to apply your foundation, concealer and even your powder.  So with one tool you can apply 3 products!
Brushes
You won't need many makeup brushes for travel.  For your face you'll only need your blush brush and an angled face brush.  An angled face brush is great because you can use it for both bronzing and contouring.  For your eyes you can pack just a shader brush and  blending brush.  Trust me, you can create a nice smoky eye with just these two brushes!
Sigma Beauty F10, Powder/ Blush
Bareminerals Angled Face Brush
MAC Cosmetics 242 Shader Brush
Sigma Beauty Blending – E25
Eyelash Curler
If you're like me and you like to curl your lashes, you'll want to throw this in your bag.  If you have naturally curled lashes, do you have any idea how lucky you are?
Ardell Wispies Lashes
Bonus Item
Fake lashes!  Are they absolutely necessary?  No.  But girl, I know you.  You love your dramatic makeup looks when you go out.  Just pack one reusable pair of your favorite glamorous lashes and an eyelash glue.  I love the the Ardell Wispies lashes and always pack a pair myself.  Adding a pair of lashes can make an easy transition from a daytime to a nighttime look.
Minimizing Your Makeup For Traveling Purposes Makes Packing Easier
As you can see, you don't need your entire makeup collection when traveling.  To be honest, you could minimize this list even more if you wanted.  But I know you love your makeup so this should be just right.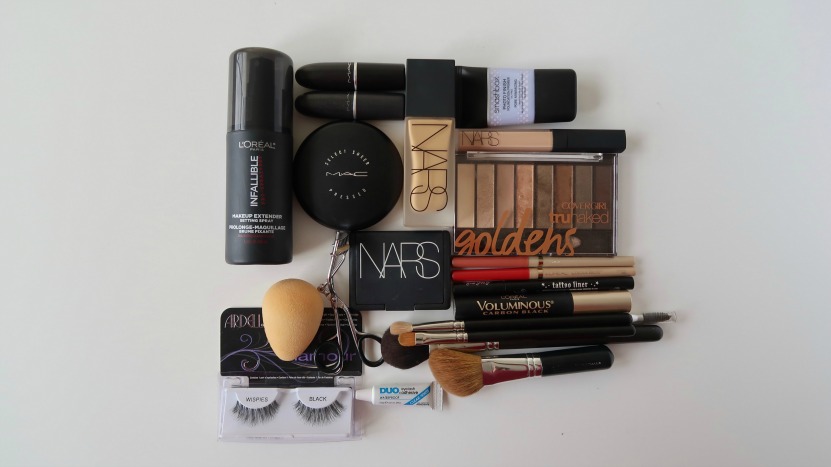 By minimizing you'll feel a weight being lifted, literally.  Your makeup bag will weigh less and you will feel great.  Trust me, you'll thank me later.  Now go pack and enjoy your trip!
Do you pack more makeup than you need when you travel?
Related posts: