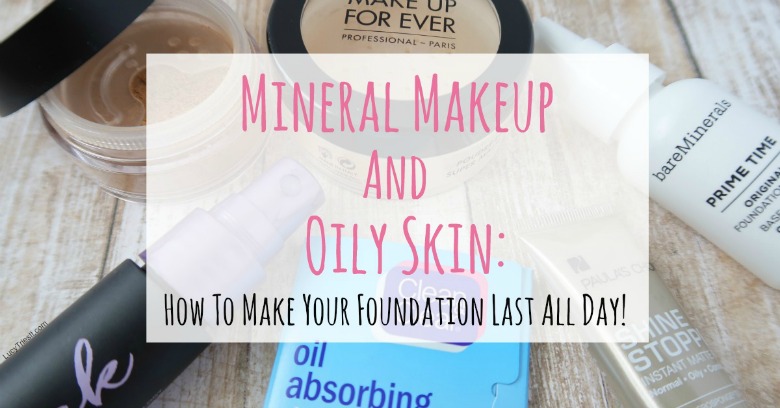 Hey girl, affiliate links are provided to help you find the products mentioned in this post.
Mineral Makeup And Oily Skin 
So you might be wondering if mineral makeup and oily skin go well together.  Or maybe you already wear mineral makeup and you love it, but you can't seem to make it last more than 4 hours on your oily prone skin. 
Is Mineral Foundation Good For Oily Skin?
Here's my experience with mineral makeup.  I started using mineral foundation, specifically bareMinerals Original Foundation, years ago.  I loved it because it didn't irritate or cause me to breakout like other foundations do.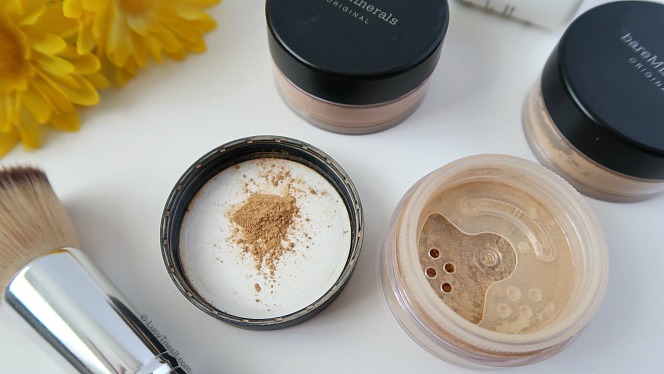 However, because my skin is so oily, my mineral foundation would either melt off, slide around, or "float" over my skin by the end of the day.  It just wouldn't look as fresh.  I remember going to makeup counters trying to find a solution and one lady told me that mineral makeup just wasn't good for oily skin.
But I wasn't ready to give up on it.  Through my determination I discovered that mineral makeup and oily skin can get along! 
I've got some tips that help extend the wear of your mineral makeup so that you can at least get through your workday looking fabulous.
Mineral Makeup And Oily Skin – How To Make Your Foundation Last All Day!
The trick to extending the wear of your mineral makeup is controlling your oil.  That's it.  So how do you do it?
bareMinerals Foundation Primer
STEP 1 – PRIME
Priming is important, especially with mineral foundation.  It's going to create a nice barrier between your skin and the minerals and it will also give the foundation something to adhere to.
I do like the bareMinerals Prime Time Original Primer.  This primer will create a smooth surface to allow the foundation to glide on.  They also make a primer specifically for oily skin, though I haven't tried that one yet.
MAKE UP FOR EVER Super Matte Loose Powder
STEP 2 – SET WITH AN OIL CONTROL POWDER
You're going to be creating layers of oil control on your face.  The setting powder will be one layer.  It is best to use a really good oil control powder like the Make Up Forever Super Matte Loose Powder.  This stuff is awesome.
I also find that silica powders are great at absorbing oil.  HD powders, like THIS ONE, are typically made with silica.
STEP 3 – PAULA'S CHOICE SHINE STOPPER
This is my secret weapon for oil control.  I like applying the Paula's Choice Shine Stopper over my makeup.  You basically pat the lotion on your skin, after you finish applying all your makeup.
This will provide another layer of oil control.  You can even pack this in your purse for touch-ups during the day!
For more information on how to use this product properly, check out the full PAULA'S CHOICE SHINE STOPPER REVIEW!
Urban Decay Oil Control Setting Spray
STEP 4 – SEAL EVERYTHING IN WITH SETTING SPRAY
This will seal the deal.  Setting spray is essential for keeping any foundation in place, but especially mineral foundation.
The Urban Decay Deslick Makeup Setting Spray is specifically made for oily skin.  Skindinavia also makes an oil control finishing spray.  For a great drugstore alternative, the L'oreal Infallible Makeup Setting Spray is excellent.
Clean & Clear Oil Absorbing Sheets
STEP 5 – USE BLOTTING SHEETS
If your skin is extremely oily, you'll want to pack some blotting sheets in your purse.  These are great to soak up any oil that does break through.  The Clean & Clear Oil Absorbing Sheets are really great for this.
Mineral Foundation And Oily Skin – You Can Make It Work!
Mineral makeup and oily skin just need a little help to get along.  The trick is to control your oil as much as possible.  You will do this by adding layers of oil control protection and blotting with oil absorbing sheets when necessary.  You'll find that your mineral makeup will look fresher longer!  
So go ahead and give that mineral foundation a second chance girl!   
Related posts: