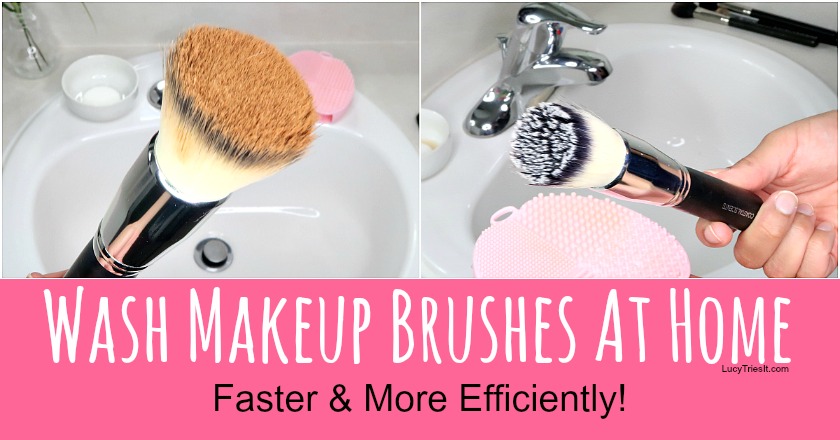 Hey girl, affiliate links are provided to help you find the products mentioned in this post.
Wash Makeup Brushes At Home Faster & More Efficiently
I know, I know – makeup brush washing day can be such a pain.  Why is it such a pain?  Well, how long does it take you to wash makeup brushes at home?  Exactly – it's time consuming because you have sooo many brushes.
I've got some great news though – I've mastered the art of brush washing.  I'm going to show you how to wash makeup brushes at home faster AND more efficiently!  You're gonna love this 😉
What You Need To Wash Makeup Brushes At Home Faster
MelodySusie Brush Cleaning Mat for Makeup Brushes
What you will need to wash makeup brushes at home faster is a brush cleaning glove like this one.
Brush cleaning gloves have textured surfaces which allow you to really loosen up all that old makeup, dirt and oil.
The MelodySusie Beautiple is a a great option because it's small, lightweight and really gets your brushes clean!
Not only does it get them really clean, but it gets the job done fast!
Best Product To Clean Makeup Brushes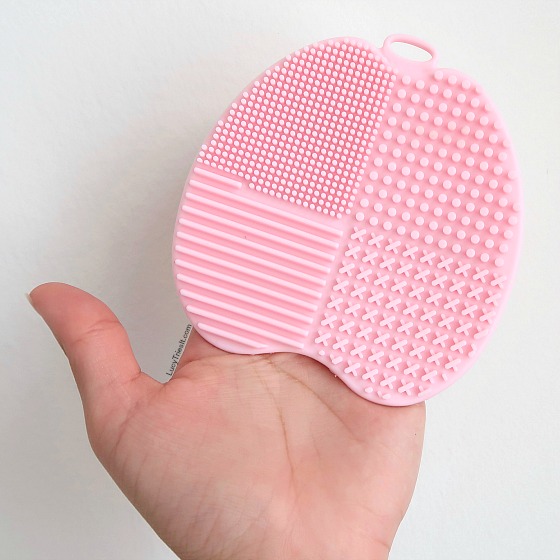 The MelodySusie Beautiple has an opening at the bottom so you can fit your hand inside.  It's made of soft silicone, so it's comfortable to wear.
There are four different texture designs on it.  The X's and big dots are great for deep cleaning.  If you have some tough makeup residue, the bars will take care of that.  The tiny dots are for eye makeup brushes.  All four patterns work great and the glove is good for both small and large brushes.
I got my MelodieSusie Beautiple on Amazon for only $8.99, but I noticed that sometimes they have it for a few bucks cheaper!  You can check the current price here.
If you have super big brushes and feel like you need something larger, you could opt for a makeup brush cleaning mat instead.
Deep Clean Makeup Brushes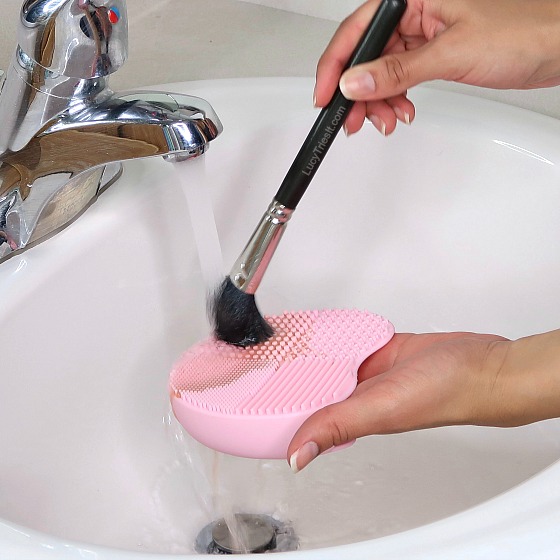 When I first came across makeup brush cleaning gloves, I thought they were unnecessary.  I mean, what more do you need to wash makeup brushes at home than a little soap and water, right?
Oh was I wrong.  The textured surface of the glove cleans sooo much better than the flat surface of the palm of your hands.  You're really able to get deep in between the bristles, allowing you to clean the brushes much faster!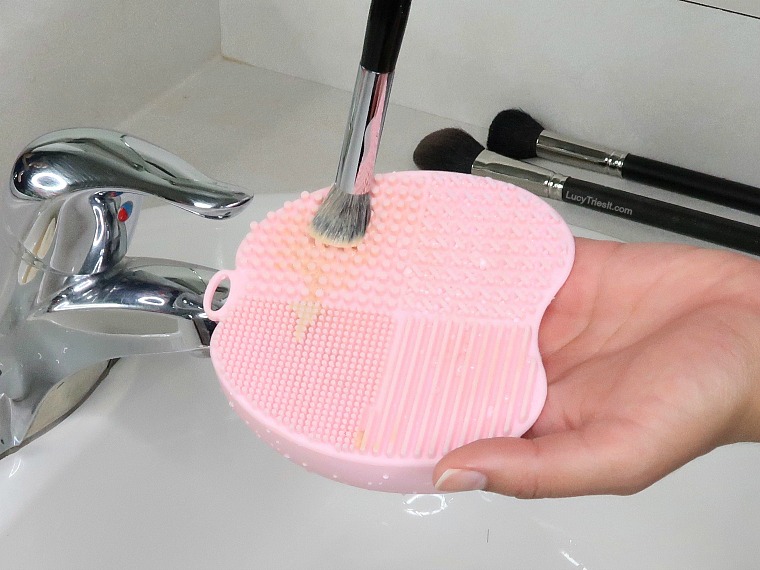 How To Wash Makeup Brushes At Home Faster And More Efficiently
Ok girl, I'm going to show you how to wash makeup brushes at home faster and more efficiently using the MelodySusie Beautiple.  Lets's get started!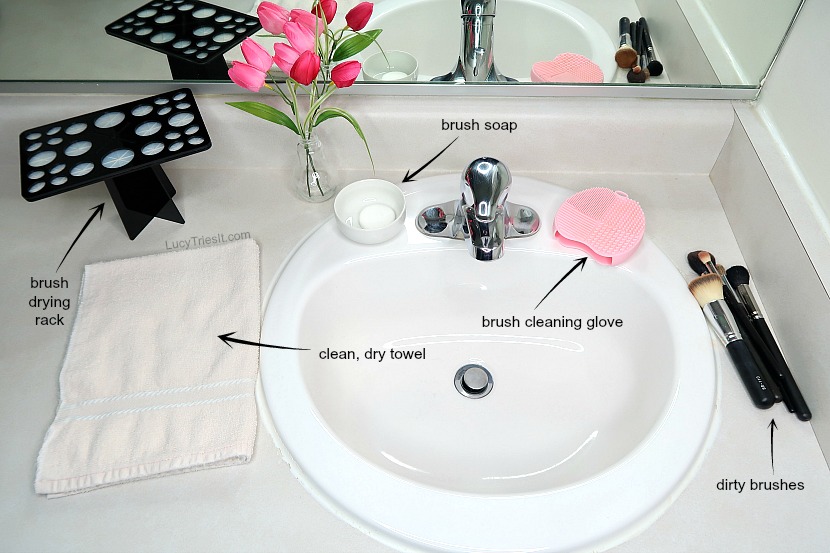 Gather all your materials at your favorite makeup brush washing sink.  You'll need your dirty brushes, your MelodySusie Beautiple,  a clean towel, and a really good makeup brush cleanser.  You'll also want to have a  makeup brush drying rack available for later.
beautyblender blendercleanser solid
The BlenderCleanser solid by BeautyBlender is great for deep cleaning makeup brushes.
Steps For Cleaning Makeup Brushes At Home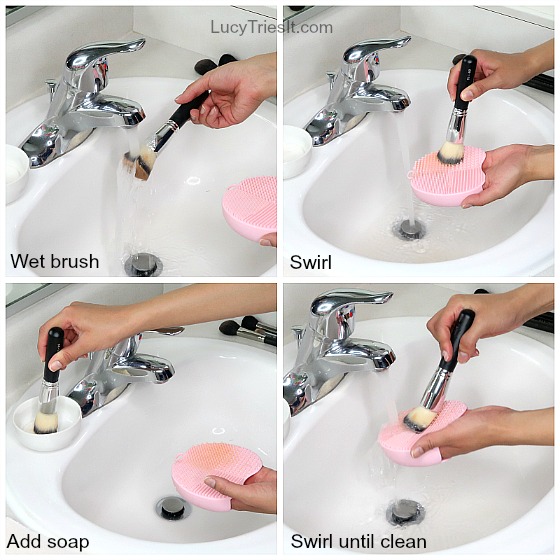 1)  Wet your brush.
2)  Swirl your brush on the glove to wash away any surface makeup residue.
3)  Add some cleanser.
4)  Continue to swirl the brush on the glove until clean.  You can add more soap as needed.
Once that brush is clean, place it on the towel and move on to the next one.
Make sure to always keep the brush bristles pointing down to prevent water from getting inside the handle.
When you have finished washing all your brushes, make sure you squeeze out the excess water and place them in a makeup brush drying rack.
Docolor Makeup Brush Drying Rack
Learn about why you should dry your brushes upside down!
Best Method To Clean Makeup Brushes!
Seriously though, look at how amazingly clean my brush is after using the Beautiple.  All that old makeup came right off!  Plus, I was able to get it this clean in less time.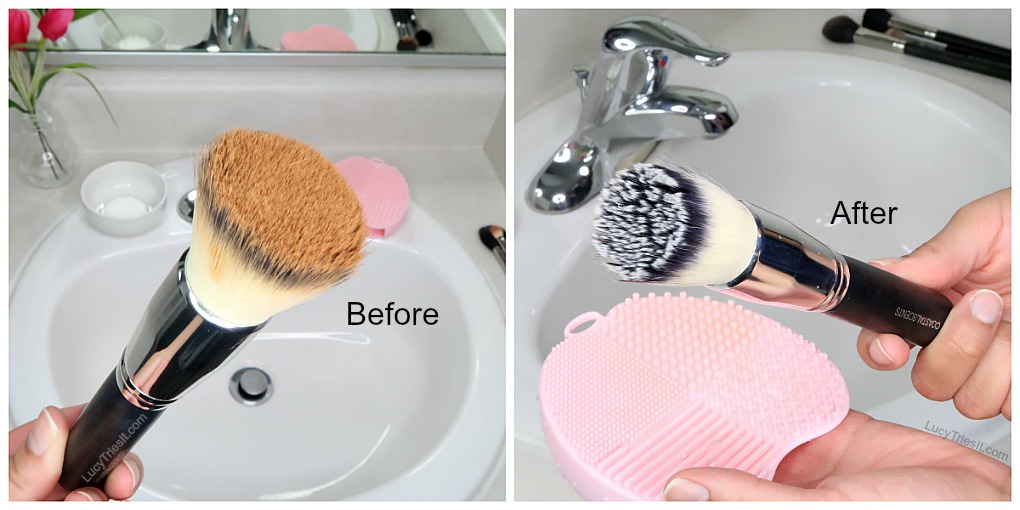 The Best Way To Wash Makeup Brushes At Home
And there you have it – the best way to wash makeup brushes at home.  Now you can get it done faster and more efficiently!
I know washing your makeup brushes hasn't always been fun, but I have a feeling that's going to change now 😉
Don't have time to wash your makeup brushes today?  Check out this quick and easy way to spot clean makeup brushes!
Related posts: