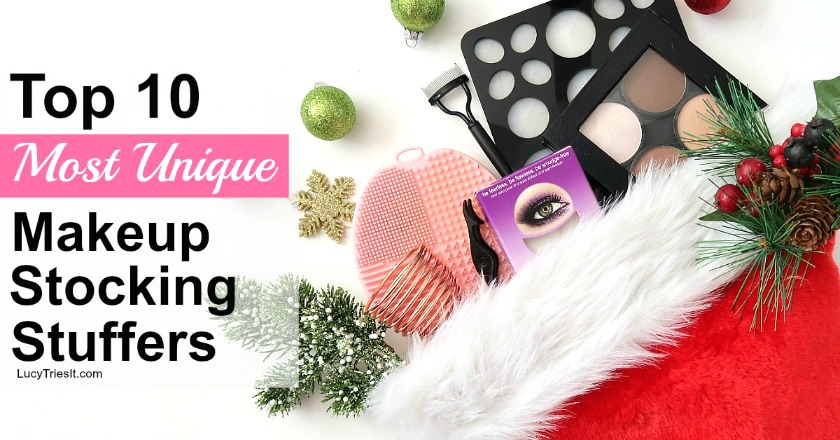 Hey there, affiliate links are provided to help you find the items mentioned in this post.
Unique Makeup Stocking Stuffer Ideas For Women Who Love Makeup
You're probably here because you know a special someone who is obsessed with makeup.  She already has so much of it, so you're looking for some unique makeup stocking stuffer ideas that will really wow her.
Or maybe you're the makeup lover trying to find a list to strategically share with to your friends and family.  That way they can have some good makeup stocking stuffer ideas to fill your own stocking.  In that case, go ahead and share it girl! 😉
Stocking Stuffers For Women Who Love Makeup
So here's the deal – this is not your average list of makeup stocking stuffers.  This is a list of small makeup tools that any makeup lover will find incredibly useful.  They will make her life so much easier because each one solves a different makeup related problem.  That's what makes them so unique and special.
So, without further ado, here are the top 10 most unique makeup stocking stuffer ideas for women who love makeup!
Top 10 Most Unique Makeup Stocking Stuffer Ideas For Women
Makeup Sponge Holder
Sunmore Beauty Makeup Sponge Holder
Every makeup loving woman owns a makeup sponge.  What she may not own is a makeup sponge holder!
Pay attention to where she stores her sponge.  It's probably sitting on the bathroom vanity picking up dust and dirt.  Or maybe she tosses it unprotected inside a drawer.  Perhaps she stores it in a plastic bag without proper ventilation so it can develop mold and bacteria.
That's why she needs a makeup sponge holder!  She can have a special place to store her sponge. 
Check out some more makeup sponge holders here!
Eyelash Comb
Mascara can get a little clumpy sometimes.  An eyelash comb will get those clumps right out!
You don't want to get her just any lash comb though.  A lot of them are shaped like mini hair combs.
However, this one has a curved comb, which fits perfectly around the contours of the eyes.  Plus it has an ergonomically shaped handle, which allows you to brush upwards instead of twisting your hand and brushing from the side.
Tinksky False Eyelash Applicator
False Eyelash Applicator
Any woman who wears fake eyelashes knows how hard it can be to apply them.  That's why she needs a false eyelash applicator.
Seriously, these things make false eyelash application a breeze.
This is one of those makeup tools she probably doesn't have but really needs.
Shadow Shields
Applying eyeshadow can be messy.  Eyeshadow fallout can get all over the cheeks and under eye areas.
Why not solve this problem for her with these Shadow Shields! They cover the under eye area and prevent the fallout from getting on the face.
Once the makeup application is complete, the Shadow shields can be easily removed and the face will be free of make residue.  This is especially convenient for any woman who loves doing smoky, dramatic eye makeup.
Makeup Palette With Spatula
Pixnor Makeup Palette with Spatula
Here is a super cool makeup tool that many makeup lovers don't have – a makeup palette with a spatula!  Why does she need this?  Well, many times we like to get creative and mix our own colors.  The problem is we have nowhere to do the mixing.
A makeup palette is awesome because she can mix her colors right on it.  The spatula is great to pick up product and for the actual mixing.
Plus, makeup is like art.  This will make her feel like the artist she is!
A makeup palette with a spatula is such a unique and useful stocking stuffer!
Makeup Brush Color Remover
A makeup brush color remover is great for removing powder color from makeup brushes instantly.  This will allow her to use the same brush with different colors.
It's super useful when switching between different eyeshadows, blushes, bronzers, etc.
This is a perfect little stocking stuffer, especially if she travels a lot, since she probably packs a limited number of brushes.
Magnetic Makeup Palette
A magnetic makeup palette is a great option for any woman who loves makeup because it allows her to customize her own palette.
She can depot her favorite products from different palettes and consolidate them into one!  She can switch out the products she uses on different days.  The small palette fits perfectly inside a purse so she can take her makeup on the go.
This will be exceptionally handy when she goes on her next vacation too.
MelodySusie Makeup Brush Cleaning Glove
Makeup Brush Cleaning Glove
Washing makeup brushes is messy and time consuming. However, it doesn't have to be!
A makeup brush cleaning glove is great for deep cleaning brushes faster and more efficiently!  It has textured surfaces which allows you to really loosen up all that old makeup, dirt and oil.
She'll be able to get her makeup brushes super clean in less time!
To see how it works, click here.
The Melody Susie brush cleaning glove is the perfect stocking stuffer because it's small, lightweight and will really get her makeup brushes clean!
Docolor Makeup Brush Drying Rack
Makeup Brush Drying Rack
A makeup brush drying rack is a must-have when washing brushes.  It helps eliminate the clutter of laying brushes to dry on a counter.  Plus, they dry faster and it prevents them from getting damaged.
It's quite small and compact, but holds 26 brushes of different sizes.  It's also collapsible for easy storage.
She will love having a rack to dry all her makeup brushes!
Check out more details on the brush drying rack here!
S & T Make Up Mat, Black With Pink Trim
Makeup Mat
Last on our list of makeup stocking stuffer ideas is a makeup mat.
Let's be honest – when she does her makeup, things can get messy.  This makeup mat is perfect for protecting the counters from makeup residue and spills.  The mesh grooves are also great for removing excess powder from brushes.  Most importantly, it's machine washable.
Instead of having to clean the counter after every makeup session, she can simply throw the mat in the washing machine every week and be good to go.  Now that's convenient!
The Best Makeup Stocking Stuffer Ideas For Women
These are seriously the best makeup stocking stuffer ideas ever!  I personally own most of them and the rest are on my own personal Christmas wish list.
As you can see, these makeup stocking stuffers are not just any ol' makeup items.  Each one is a tool that solves a different makeup related problem – that's what makes them so unique.  Trust me, she will be very impressed!
And hey, I'll let you take all the credit 😉
Related posts: