Hey girl, affiliate links are provided to help you find the products mentioned in this post.  Information provided is based on my opinion and personal experience.
You May Not Be Using The Best Type Of Foundation For Oily Skin
So you buy all the foundations your favorite YouTuber recommends because they look amazing on her.  But there's a problem; they don't look that amazing on you.
As a matter of fact, they look terrible after about 2-3 hours.  You look greasy, the foundation is melting off, you have greasy creases on your eyelids, and your face just doesn't look fresh at all.  Why is this happening??
Girlfriend, you may not be using the best type of foundation for oily skin.  I've been there, and I'm here to help you.
IN A HURRY? >> HERE'S MY FAVORITE FOUNDATION FOR OILY SKIN.
Foundation Is Not A "One Size Fits All" Product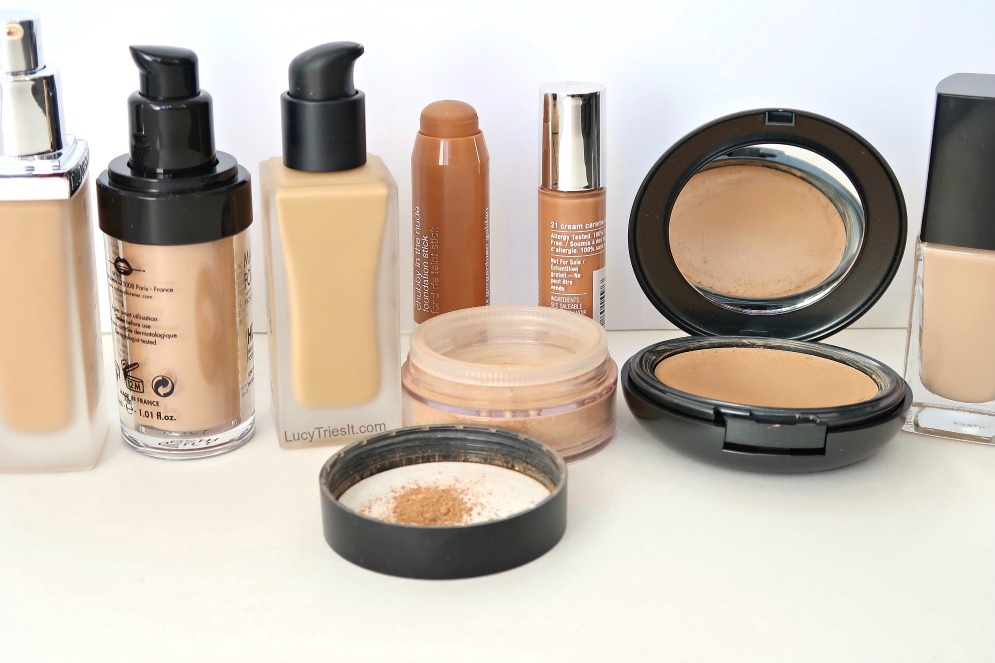 The first thing you have to understand is that not all foundations are created equal.  They come in different finishes, consistencies, formulas, etc.  Some foundations are ideal for dry skin, and others are best for oily skin.
Now, it took me a while to figure this out.  When I first started getting into makeup, I never considered my skin type.  When I realized I had oily skin, I just figured that it was a curse and that my makeup would never look good.
But then I started to research and I tried a whole bunch of different foundations – liquid, powder, cream, drugstore, high-end, you name it!  And I finally discovered a type of foundation formula that holds up much better on my oily skin.
What Type Of Foundation Is Best For Oily Skin?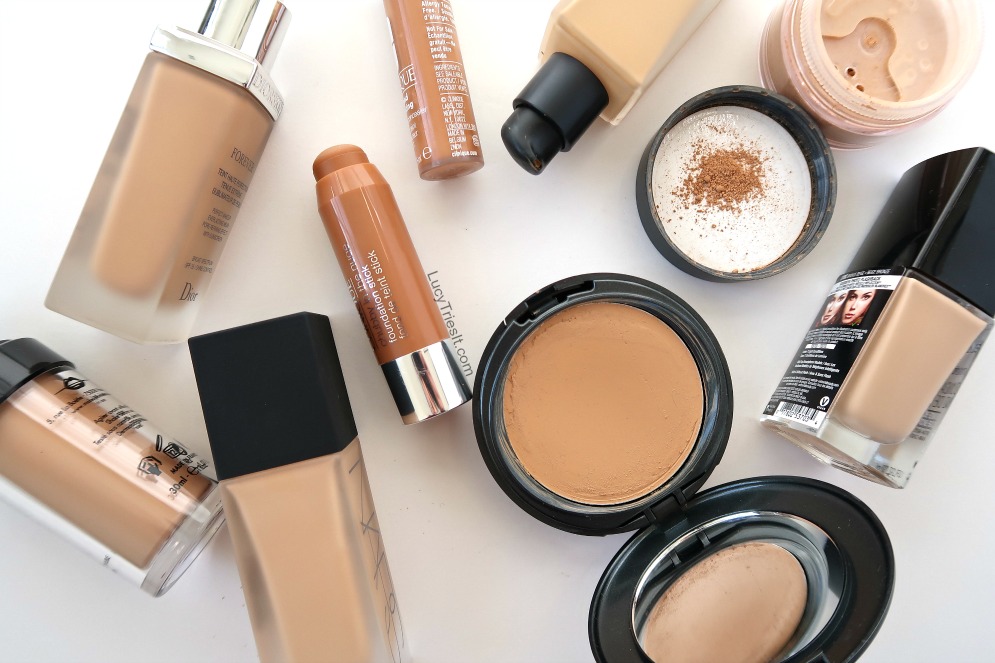 In my experience, the best type of foundation for oily skin is one that has a long wearing formula.  What I've noticed is that long wear foundations tend to be matte.  They dry pretty quickly and set themselves (though you should still use a good powder).  And even if you do get oily, long wear foundations still won't budge.
You want to make sure the foundation specifically states it's a  long wearing formula.  Don't mistake something that just says "matte finish" as being enough for your oily skin.  I've tried that before and it doesn't really make much of a difference if it's not a long wearing formula.
For example, take a look at this foundation.  It says it's matte, but it doesn't indicate that it's a long wearing foundation.  However, this one here specifically states it has a long wearing formula that lasts up to 16 hours.  That's what you want to look for.
Related Article: The Best Long Wear Foundation For Oily Skin
Best Long Wear Foundations For Oily Skin
NARS All Day Luminous Weightless Foundation
BarePro Performance Wear Liquid Foundation
Christian Dior Skin Forever Perfect Makeup Everlasting Wear
So these are my top three long wear foundations for oily skin.  These are the ones I have actually used myself.  My absolute favorite is the Nars All Day Luminous Weightless Foundation.  It truly has proven it's long wear capabilities.  Plus there's a bunch of other stuff I love about it too!
The BarePro liquid foundation by bareMinerals is a very close second.  I like them both because they are so lightweight.  The Dior Forever Perfect foundation is a little thicker, but it has quite the staying power as well.
More Long Wear Foundation Options
Estee Lauder Double Wear Stay-in-Place Makeup
Kat Von D Lock-It Tattoo Base Light 44 Foundation
Laura Mercier Flawless Fusion Ultra-Longwear Foundation
Here are some more options to explore.  I haven't had a chance to try these yet, but I have heard from others that they're good.  The Estee Lauder Double Wear Foundation is one of the classic ones that I've always heard is really good for oily skin.  It also comes in a light version, which is a long wearing formula too.
Kat Von D Lock It Foundation states that it lasts 24 hours.  I'm not sure if you'll ever need your foundation to last that long, but it's worth checking out!
Drugstore Long Wear Foundations
L'Oreal Paris Infallible Pro-Matte Foundation 24 Hour Wear
Revlon ColorStay Liquid Makeup for Combination/Oily
If you need a drugstore alternative, there are some options as well.  Both L'oreal Infallible Pro-Matte and Revlon Colorstay claim to have long wearing formulas that last up to 24 hours!
L'oreal Infallible Pro-Matte also seems to have become a favorite for many who have oily skin.  It's definitely worth a try, especially since it's so much more affordable than the high end foundations.
The Best Type Of Foundation For Oily Skin
So remember, if you find that your foundation doesn't last, you might not be wearing the best type of foundation for oily skin.  I feel that long wearing formulas really make a difference.  To extend the wear even more, make sure to pair your foundation with a great oil control powder and setting spray!
Hope this helps!  🙂
Related posts: