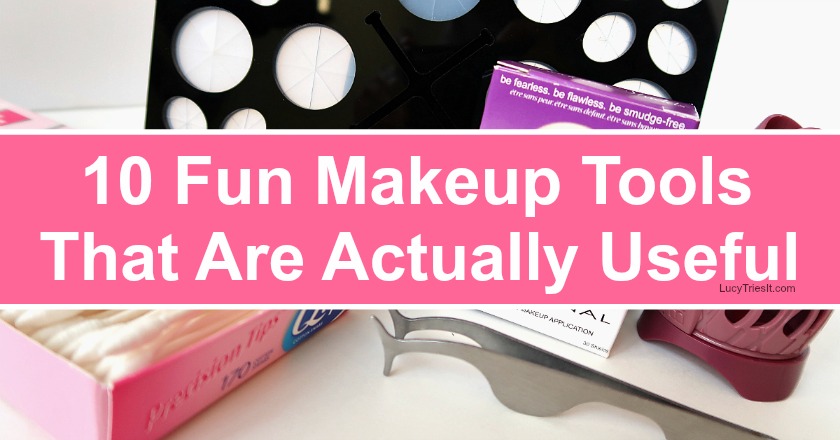 Hey girl, affiliate links are provided to help you find the products mentioned in this post.
Unique And Fun Makeup Tools That Are Actually Useful
Ok so lately I've been really into finding unique and fun makeup tools that are actually super useful.  These tools solve different makeup related problems.  You'll probably wonder how you ever made it through your makeup life without them.  I know that's how I feel!
Seriously though, you need the fun makeup tools on this list like right now.
Fun Makeup Tools You Need In Your Life Right Now
If you've ever had to mix your foundations to create the perfect shade, than you need a makeup palette.
You won't have to mix on the back of your hand anymore because you will do the mixing on your palette!
These palettes are also great for mixing other makeup, such as liquid lipsticks and eyeshadows.
What's great is that it also comes with a little spatula that you can use for the actual mixing.  No need to dirty your fingers!
Q-Tips Precision Tips – 170 ct
Pointed Cotton Swabs
If you think regular cotton swabs are a useful tool to cleanup makeup mistakes, wait until you try pointed cotton swabs!
Regular cotton swabs have a rounded tip.  However these cotton swabs have a pointed tip, which makes it so much easier to clean up makeup around the face.  The precision tip gives you more control.
Pointed cotton swabs make it really easy to clean up a winged liner, mascara on the lids, mistakes around the lips, and around the brows.
Docolor 26 Mix Size Makeup Brush Drying Rack
Makeup Brush Drying Rack
Did you know the best way to dry your brushes is to hang them upside down?  Yeah, it prevents water from seeping deeper into the handle, which can damage to your brushes.
I recently purchased a makeup brush drying rack and I am so glad I did.  The rack firmly holds your brushes so that they hang upside down.  I've noticed my brushes dry a lot faster this way too.
I really like this one because it's actually really compact, but it holds a lot of brushes.  A drying rack is also great because it eliminates clutter on your counter from laying brushes out to dry.
I have THIS ONE and I LOVE IT!
Blenderelle Makeup Sponge Storage & Travel Case
Blenderelle
The Blenderelle is a makeup sponge holder.  This little makeup sponge case is awesome.  It holds most oval makeup sponges inside and it's great for storage.
What I like about this one is that it's especially useful when you travel!  It protects your sponge from getting damaged in your makeup bag.  It also keeps your sponge from gathering any dirt and bacteria that could be on the bathroom counter.
Plus, it looks kind of cute and decorative.
KEDSUM Silicone Makeup Brush Cleaning Mat
Makeup Brush Cleaning Mat
If you've never used one of these to clean your makeup brushes, you need to get one now.  Seriously, this is a tool you need if you want to give your brushes a deep cleaning.
I never really thought you would need anything other than soap and water to wash your brushes, but boy was I wrong!  Makeup brush cleaning mats have textured surfaces which allow you to really get deep into the brush bristles.  This helps to dislodge all that old makeup, dirt and oil much easier and faster.
If you prefer something smaller, you can get a makeup brush cleaning glove instead.  I really like this one.
Tinksky False Eyelashes Applicator
False Eyelash Applicator
Do you like wearing false eyelashes?  Do you struggle to apply them?  Then you need a false eyelash applicator tool in your life!
False eyelash applicators are specifically designed to apply fake eyelashes.  The tip is different than regular ole' tweezers as it is wider and shaped in a curve.
Because the tip is wider, you have more control over the eyelash.
Trust me, this is one of those fun makeup tools you really need in your life.
I got my false eyelash applicator from Amazon for a great price!
The Spatty Spatula Tool, Pink, 6 Inches
Small Cosmetic Spatula
Ever wonder how much product actually goes to waste when your foundation pump stops pumping out product?  Do you really get every single drop?  Probably not.
This is quite major, especially if you use high end makeup.  I don't know about you, but I'd rather get every last drop out of my bottle of a $50 foundation!
That's where a small cosmetic spatula comes in handy.  This spatula is especially designed to fit in small cosmetic bottles so you can scrape out every last drop of your favorite product.  You can store all the extra product in a little cosmetic container.
GooMart Makeup Brushes Color Remover
Makeup Brush Color Remover
These fun makeup tools are so simple, yet so useful!  You know when you're doing your makeup and you try to use the same brush with different colors?  If only there was a way to instantly clean the color off the brush?
The good news is you can use one of these handy little tools to instantly switch from one color to another when using powder products.  You just swirl the brush around the sponge to get rid of the color.
A makeup brush color remover is great to have if you travel.  You probably pack a limited number of brushes, so it's nice that you can continue to reuse your brushes with different shades while on vacation.
Shadow Shields
If there's one thing I hate when doing a dark smoky eye, it's all the little specs of eyeshadow that end up under my eyes and on my cheeks.
Shadow Shields are designed to be placed right underneath your eyes to catch any eyeshadow fallout.
Awesome, right?!
They have an adhesive on the back that you use to stick on your face.  You can go about blending that smoky eye worry-free.
They're also super useful when applying glitter makeup.  You know that glitter gets everywhere!
Beautural 10X Magnifying Lighted Makeup Mirror
Magnifying Mirror
The last of our fun makeup tools is a magnifying mirror.  A mirror with magnification makes applying makeup so much easier.
Even if you have perfect eyesight, you can still benefit from being able to see your makeup applied in a magnifying mirror.
Ever since I started using one, I've been able to line my eyes, apply mascara, fill in my brows, and apply fake eyelashes with so much more ease!  Any makeup application that requires a little more detail is so much easier when it's magnified.  Go ahead and try it, you'll see what I mean.
You can find a ton of options for magnifying mirrors on Amazon!
Fun Makeup Tools That Actually Solve Your Makeup Problems
Well, those are my picks for the top ten fun makeup tools that are actually super useful!  Hopefully you've found something here that will solve one (or more) of your makeup dilemmas!  Let me know in the comments below what you think.
I'm always on the hunt for unique and useful makeup tools.  So if you have any favorites yourself, let me know below!  I'd love to check them out 😉
Related posts: