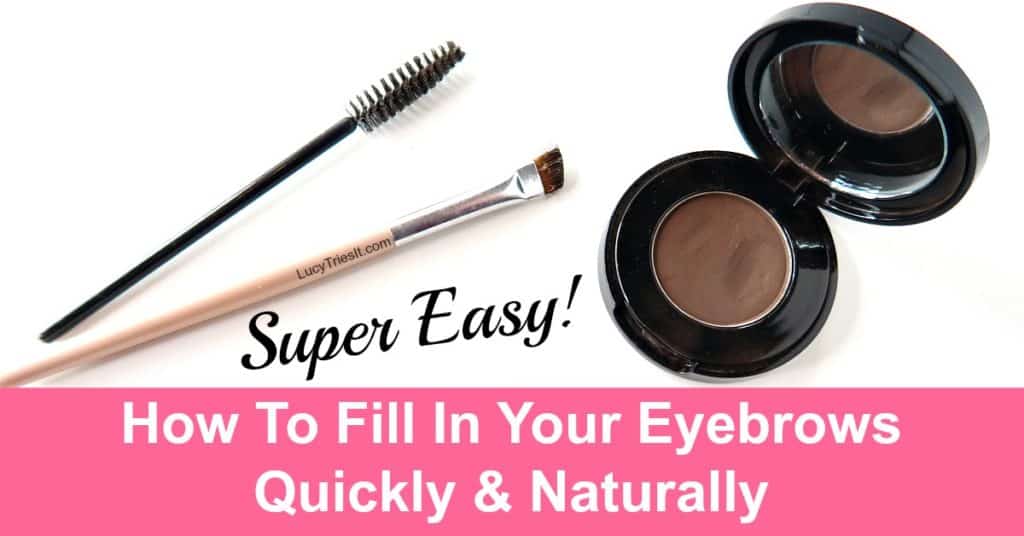 Hey girl, affiliate links are provided to help you find the products mentioned in this post.
Super Quick Way To Fill In Eyebrows Naturally 
Do you spend forever doing your brows?  Would you like to find a way to fill in eyebrows naturally and quickly on those busy mornings?
Listen, I've tried to do my brows like my favorite beauty gurus on YouTube.  Sure, it's not a problem spending time perfecting them when it's the weekend.  However, I don't want to spend all that time in the morning when I have to be at work by 8 A.M.  I'd rather get them done fast and I'd rather they look natural.
Luckily, one day I discovered a really quick and easy way to fill in eyebrows naturally on those busy mornings!
IN A HURRY? >> YOU CAN USE THIS TO FILL IN YOUR EYEBROWS!
What You Need To Quickly Fill In Eyebrows Naturally
There are many different types of brow products out there – pencils, powders, pomades, etc.  However, for a fast, easy, and natural looking brow I prefer using a brow powder.
In my opinion, brow powder is the easiest to use and the most forgiving if you make a mistake.  I like using the Anastasia Beverly Hills Brow powder, but there's a ton out there.  You just want to find the one that's the best shade match for your brows.
Anastasia Beverly Hills – Brow Powder Duo – Dark Brown
NYX Eyebrow Cake Powder, Dark Brown/Brown
Rimmel Brow This Way Sculpting Kit, Dark Brown, 0.04 Ounce
The next thing you'll need is an angled eyebrow brush.  A lot of eyebrow brushes come with a spoolie on the other end, like this one.  However if yours doesn't, you can use a clean mascara wand (which is what I use).
Duo Eyebrow Brush by Keshima – Angled Brow Brush & Spoolie
KOOBA Makeup Angle Eyeliner Kabuki Brush
G2PLUS 100 Pack Disposable Eyelash Brush Wands
Related Article:  How To Apply Mascara Without Clumping
How To Fill In Eyebrows Quickly And Naturally 
Ok, so here's my quick and easy method for filling in eyebrows on those busy mornings.
Step 1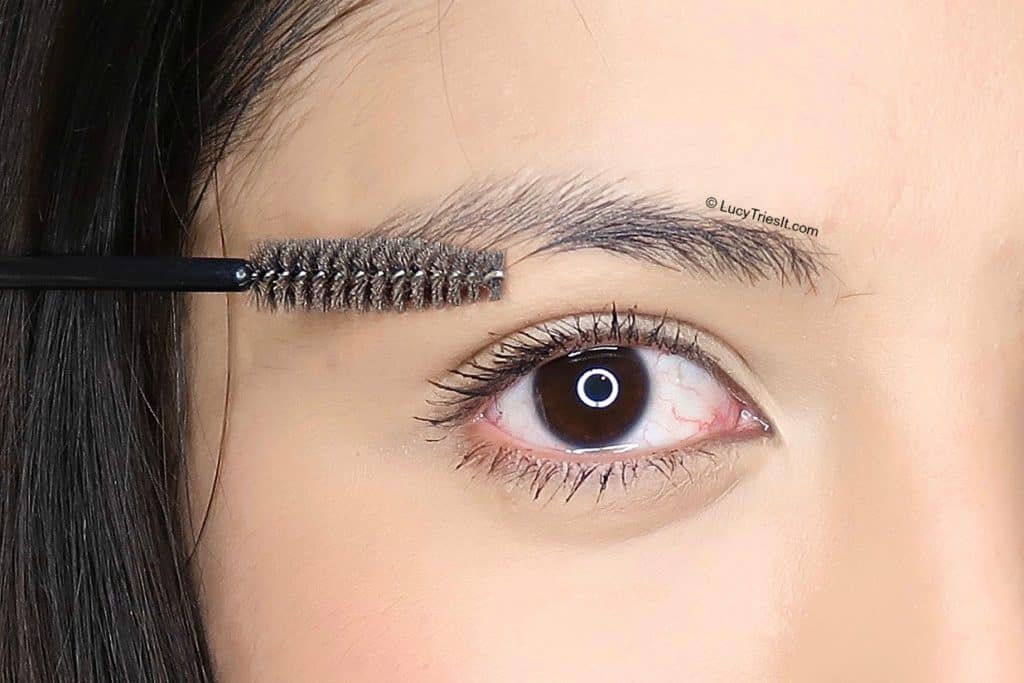 Using the spoolie or clean mascara wand, brush your eyebrow hairs down.  You want all your brow hairs to be down for this.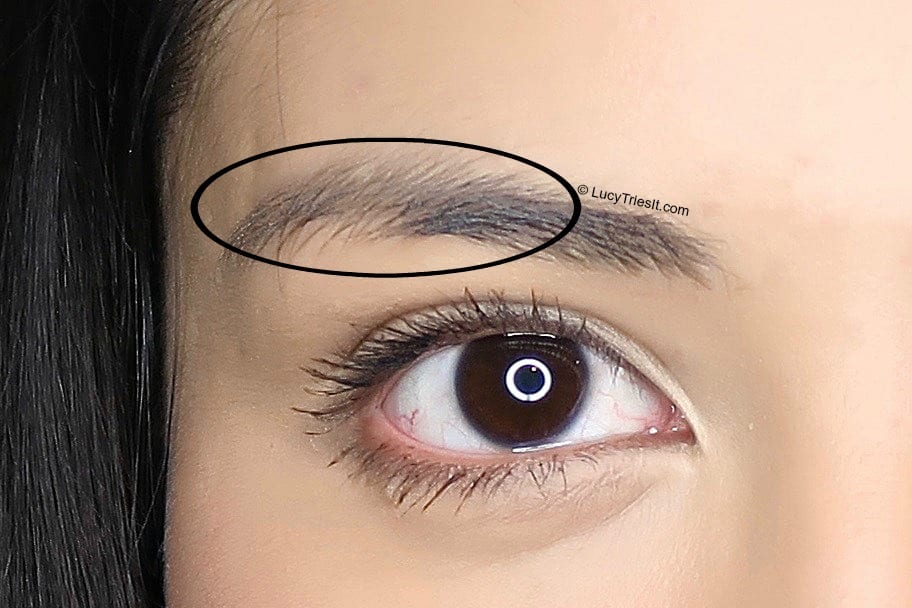 As you can see, all my eyebrow hairs are brushed down.  This is the area you will fill in with your brow powder.
Step 2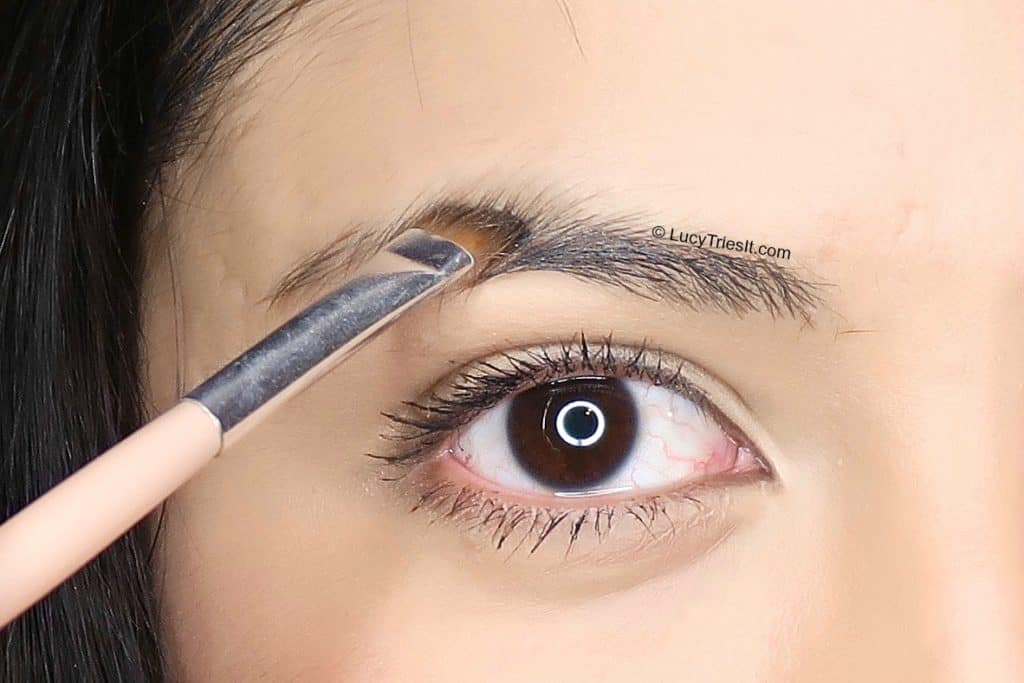 Pick up some brow powder with your brush and gently fill in the sparse area of your eyebrow.  I like following the direction of the hair.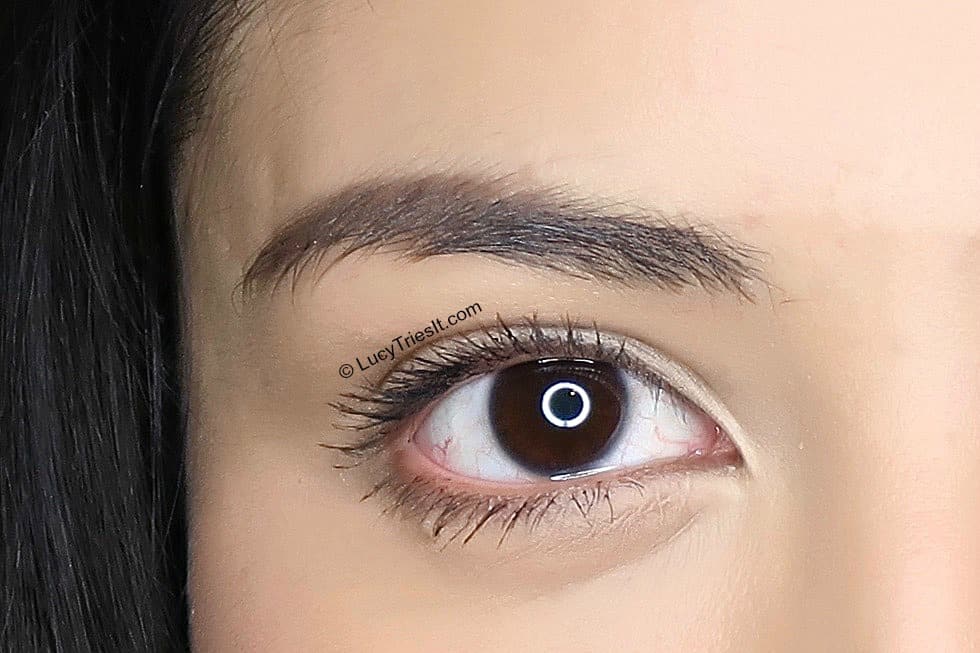 Your eyebrows will look something like this when you're done filling them in.
Step 3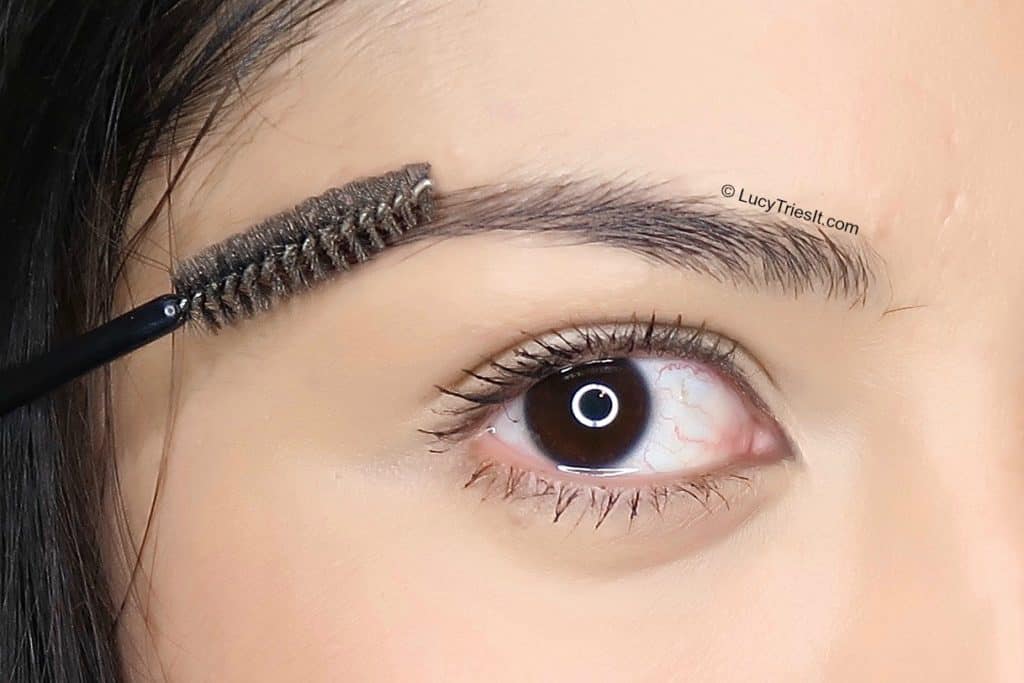 Once you're done filling in that area, you're going to use the spoolie to brush your eyebrow hairs upwards and into place.  Voila!  Most of the time that's all you need, but if you notice any area that needs extra powder now that the brows are in place, go ahead and fill it in.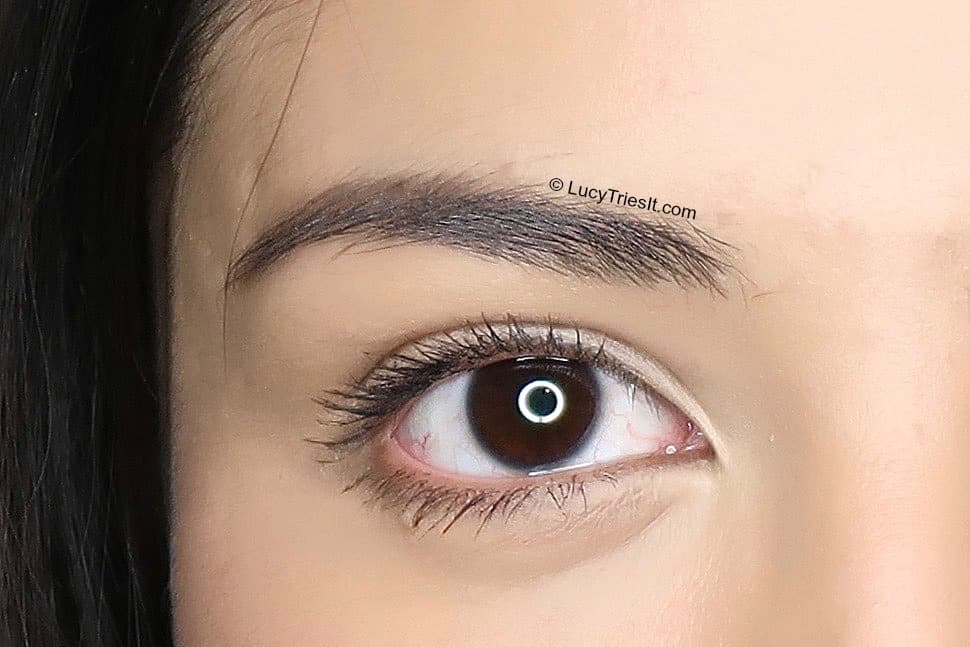 I ended up using a brow powder that was slightly too warm because I couldn't find my other powder.  However, when you use the correct shade it will blend in much better with your natural brows.
If you have really unruly brows like mine, you can finish them off with a clear eyebrow gel to keep them in place.
Related Article:  The Easiest Technique To Apply False Eyelashes Yourself
Easiest Method To Fill In Eyebrows Naturally
I find that when I brush my eyebrow hairs down, it exposes more of the sparse areas so you can fill them in quickly and still have it look natural.  This is perfect for those busy mornings, or anytime you don't feel like spending thirty minutes doing your brows 😉
FYI – Some eyebrow kits come with a mini angled brush and spoolie included (like the ones below).
Maybelline Brow Drama Pro Eyebrow Palette, Soft Brown, 0.1 oz.
L.A. Girl Inspiring Brow Palette, Dark and Defined, 0.085 Ounce
L'Oréal Paris Brow Stylist Prep and Shape Pro Brow Kit
You May Also Like:  How To Create A Smooth, Anti-Feathering Lip Base For Any Lip Product
Related posts: