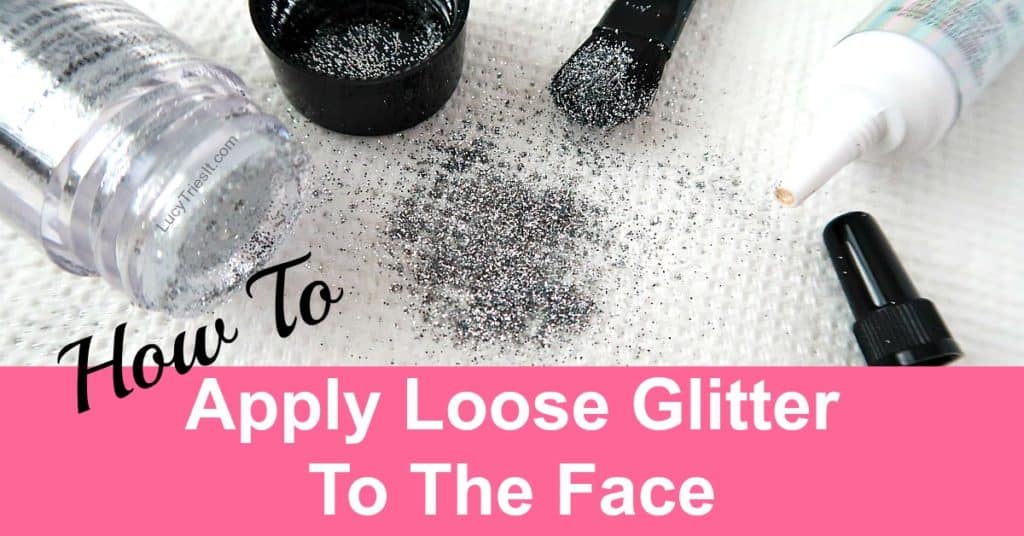 Hey girl, affiliate links are provided to help you find the products mentioned in this post.
How To Apply Glitter Face Makeup
Ok so you're ready to move on to the next step in your makeup journey, which is to apply glitter face makeup!  It can be a lot of fun to work with.  Whether you're doing a trendy music festival look, Halloween makeup, or beautiful birthday makeup, glitter can make it stand out even more.
But there's just one question you have – how do you apply glitter to the face?  Not to worry, I've got you covered!
What You Need To Apply Glitter Face Makeup
NYX Cosmetics Glitter Primer 0.33 oz
In order to apply loose glitter to your face, you'll need a glitter primer.  Sometimes they're called "glitter glue" or "glitter adhesive."
Glitter primer will help the glitter stick to your skin and minimize any glitter fallout.
There are a ton of glitter primers to choose from, but this one is my favorite.
How To Apply Glitter To The Face
Step 1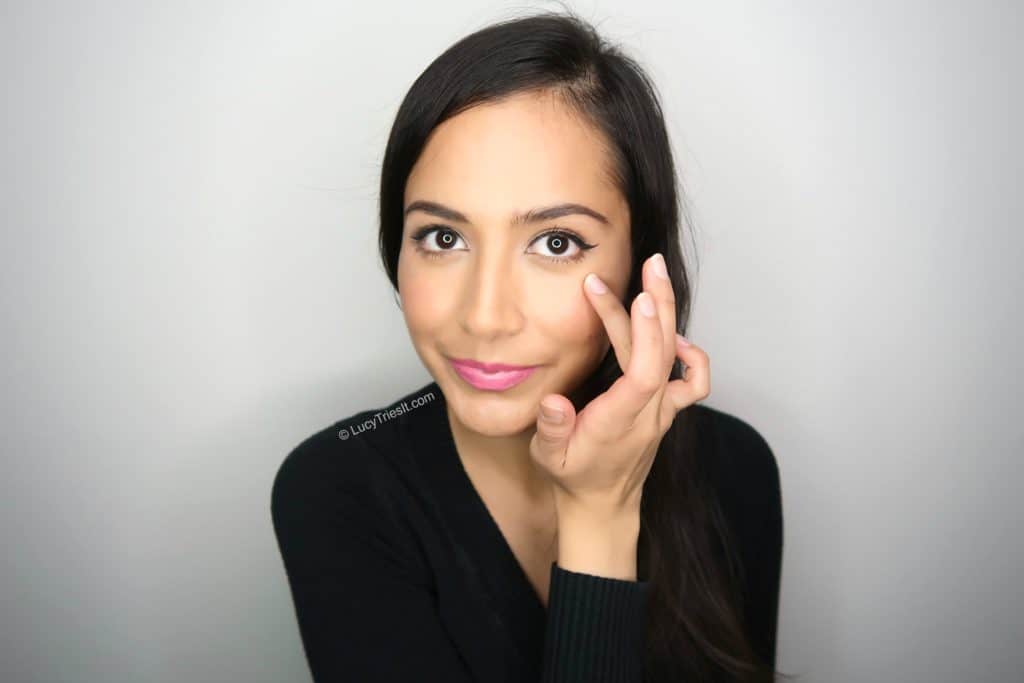 Apply glitter primer to the area of your face where you plan to add some glitter.  I just use my fingers for this.
Step 2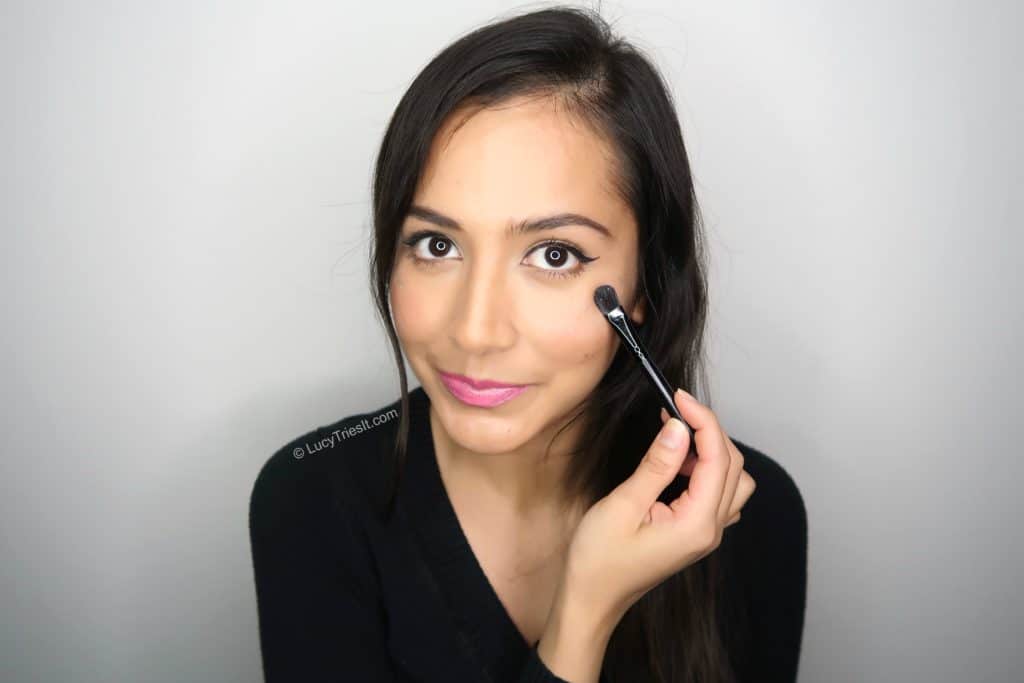 Now pick up some glitter with your fingers or an eyeshadow brush and press it on to the area where you added the glitter primer.  Keep doing this until the area is covered with as much glitter as you'd like.  That's pretty much it!  Make sure the glitter you are using is safe to use on the face.
I find that using an eyeshadow brush tends to pick up and deposit more glitter for a heavier application.  So if you prefer less glitter than I would recommend using your finger to slowly build it up (like I did in the picture below).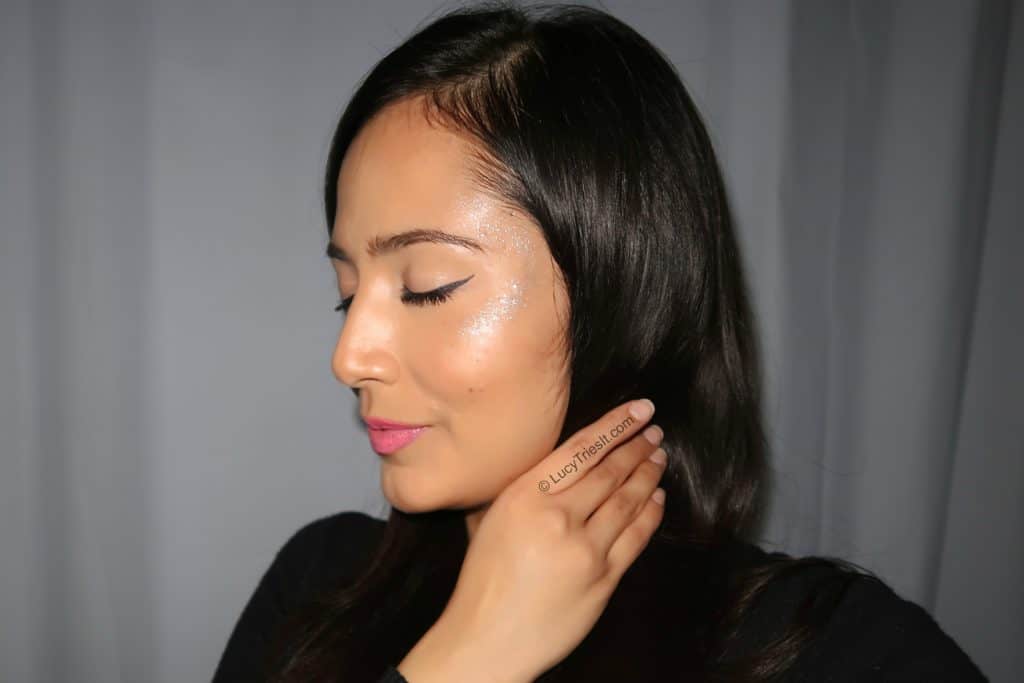 Related Post:  How To Remove Glitter Face Makeup 
Best Way To Apply Glitter To The Face
Well that is how you apply glitter to the face.  Pretty easy peasy, right?  Now you can go ahead and start creating some fun glitter makeup looks.  As long as you use a primer, the glitter stays on pretty well until you're ready to remove it.
So go and get your glitter on, girl 😉
NYX Cosmetics Glitter Primer 0.33 oz
e.l.f. Essential Glitter Primer – Clear elf Eye Eyelid Bond Crease
Too Faced Cosmetics, Shadow Insurance Glitter Glue
Related posts: