Hey girl! Affiliate links are provided to help you find the products I used for this look.
Cleopatra Makeup For Halloween With Tips For Oily Skin
Ahh, Halloween! Don't you just love it?  I sure do.  This year I decided to be Cleopatra…again.  I love doing Cleopatra makeup for Halloween, specifically Elizabeth Taylor's iconic blue eyeshadow look.
This is a really easy Cleopatra makeup look too.  It doesn't take very long and you'll look amazing at your Halloween party!
Oh and girl, since you have oily skin like me, most of the products I use work well on oily skin.  So your Cleopatra Halloween makeup will look amazing all night!
Cleopatra Face Makeup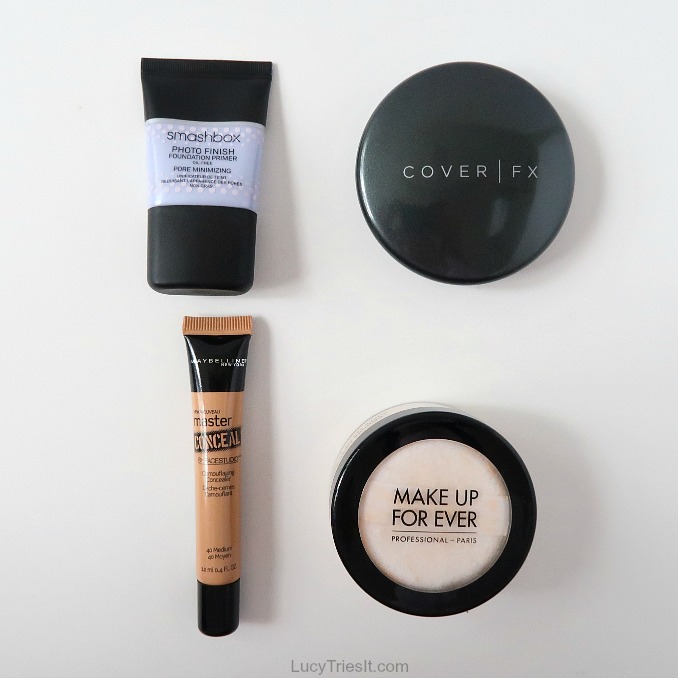 1) Start with a good oil control primer.  I like the Smashbox Pore Minimizing Primer because it makes my skin matte without feeling too dry.
2) Apply a full coverage foundation.  I decided to use the Cover FX Total Cover Cream Foundation in shade G50 (to look more tan). However, I will admit that cream foundations aren't always the greatest for oily skin.  Girl, this is definitely one of those "do as I say, not as I do" moments.
You want to go with a long wear foundation that's more suited for oily skin, such as the Nars All Day Luminous Weightless Foundation.  You can check out how it looks HERE.
I just happen to be a stubborn little makeup junkie that wanted the super full coverage offered by a cream foundation for this look.
I can be such an oily skin rebel sometimes!
3) Conceal any under eye circles with the Maybelline Master Conceal Camouflage Concealer.  This is an excellent concealer for oily skin.  I used the shade medium since I'm not doing any highlighting for this look.
4) Set with a good oil control face powder, like the Makeup Forever Super Matte Loose Powder.
This is such a great powder for oily skin.  Read more about it here!
Smashbox Pore Minimizing Primer
Maybelline Master Conceal
Super Matte Loose Powder
Now you can move on to the Cleopatra eye makeup!
Cleopatra Eye Makeup Tutorial
5) To keep your oily eyelids in check, you'll want to prime your lids with an eye shadow primer.
6) Apply a blue cream eyeshadow to your entire lid all the way to the brow bone.
7) Now apply a blue powder eyeshadow over it.  I used the shade "Sapphire" from the CoverGirl Jewels TruNaked Eyeshadow Palette.  This will add more intensity.
Smashbox Photo Finish Eye Shadow Primer
Maybelline Color Tattoo Eyeshadow, Tenacious Teal
CoverGirl Trunaked Jewels Eyeshadow Palette, 0.23 Ounce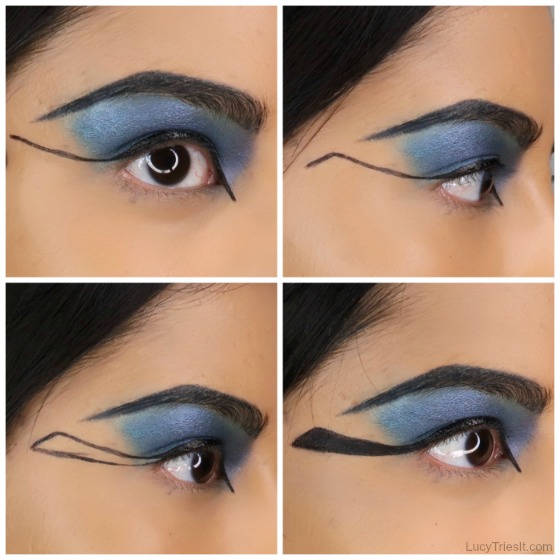 8) Fill in your brows with a black pencil.  I actually used an eyeliner pencil for my brows to get the intense black.  Soft delicate brows don't really go well with this look.  You want your brows to be bold and arched, extending them a bit at the end.
9) Your Cleopatra makeup for Halloween isn't complete without a bold, ancient Egyptian style eyeliner!  Use a black waterproof eyeliner pen to draw a line from the tear duct all the way out until you almost meet the tip of your eyebrow.
Also extend the line a little bit passed the inner corner of your eyes.
A waterproof liner is a must so that it lasts all night on your oily skin.
10) Draw a line down at the same angle as the brow.
11) Draw another line out to connect to that line.  Now fill it in with the eyeliner pen and a black eyeshadow (to make it really black).
NYX Slide On Pencil, Jet Black
Kat Von D Tattoo Liner Trooper
MAC Eye Shadow – Carbon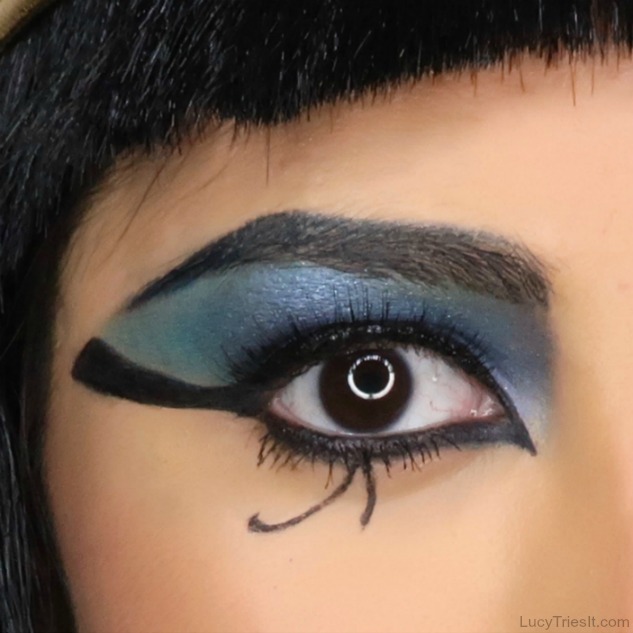 12) Fill in any empty space between the liner and the brow with more blue eyeshadow.
13) Use a black waterproof eyeliner to line your bottom lash line, connecting it to the inner corner line and the outer corner.
14) You can add a little design underneath one of your eyes (like the one above) with your eyeliner pen, but this is optional.
15) Add a pair of your favorite dramatic lashes.  I used the Ardel Wispies lashes.  Don't forget to use a really black mascara on your bottom lashes.
5 Pack Black Wispies Lashes
L'Oreal Voluminous Mascara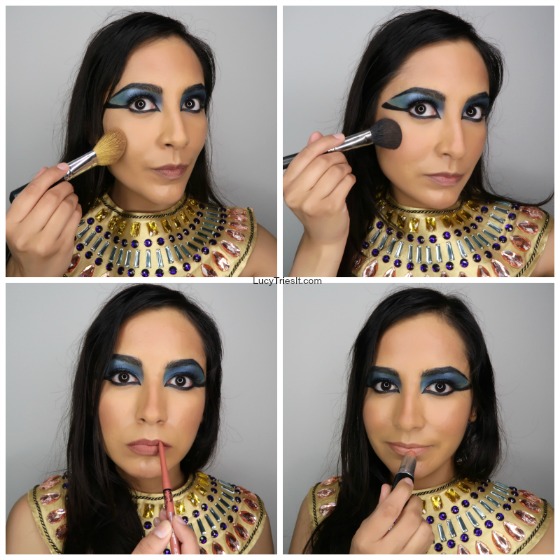 16) Dust bronzer on the high points of your face (forehead, cheeks, nose and chin).  Tarte Amazonian Clay Matte Waterproof Bronzer is a great option for oily skin.  I used the shade "Hotel Heiress" to give me a super tan look.
17) Apply a beige blush on your cheeks.
18) Go with a nude shade for your lips.  I used Kat Von D Everlasting Lip Liner in D-Minor and MAC Lipstick in Peachstock.
Check out how to create a smooth, anti-feathering lip base for your Cleopatra makeup!
Tarte Matte Waterproof Bronzer
MAC Mineralize Blush – Warm Soul
MAC Lipstick – Peachstock
Final Tips For Oily Skin
19) Since you'll be out all night, you're going to want to make sure your oily skin is kept in check.  First, I recommend dabbing on some of Paula's Choice Shine Stopper over your makeup.  Make sure to READ THIS for instructions on how to use it.
20) Next, set with a makeup spray!  Seriously, setting spray makes a difference and you can opt for one that is specifically made for oil control.
21) Lastly, pack some Clean & Clear Oil Absorbing sheets in your purse.  Chances are there will be some oil breakthrough at some point, especially if your skin is extremely oily.  These oil absorbing sheets are great at keeping the oil at bay.
Paula's Choice SHINE STOPPER
Urban Oil Control Setting Spray
Clean & Clear Oil Absorbing Sheets
Cleopatra Makeup For Halloween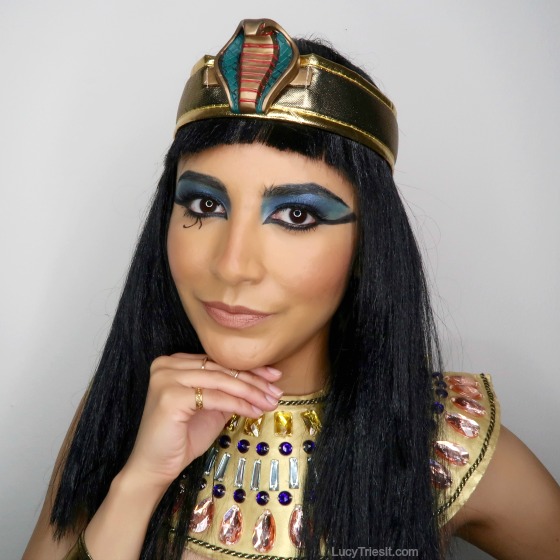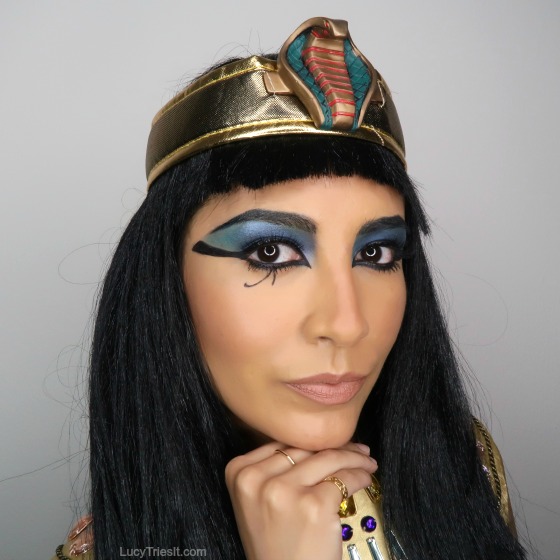 You are now done with your Cleopatra makeup for Halloween!  Now throw on your wig and costume (this is the one I have) and you're ready to hit the Halloween party scene!
Here are some more pictures of the finished look using the flash on my camera.  The top two are without the little eye design.  I hope you enjoy all my awkward poses.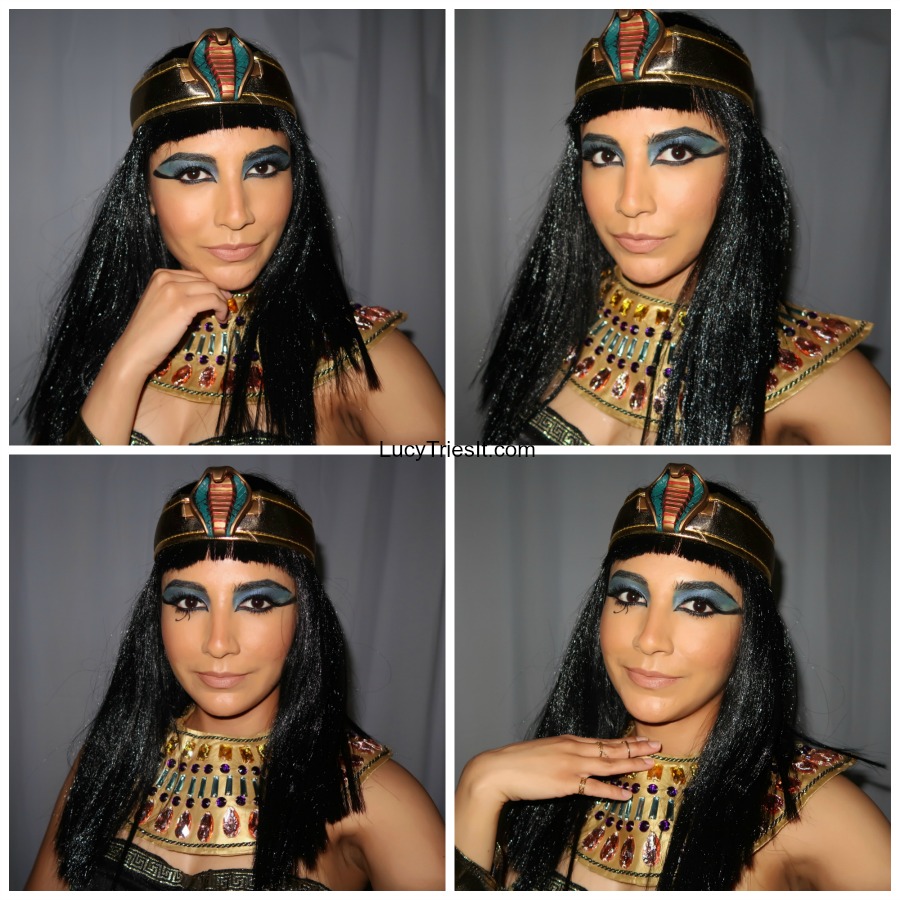 Honestly this is a pretty easy Cleopatra makeup look!  I think it's pretty cute and your friends will probably think you're a makeup pro 😉
Happy Halloween girl!  Hope you have a blast!