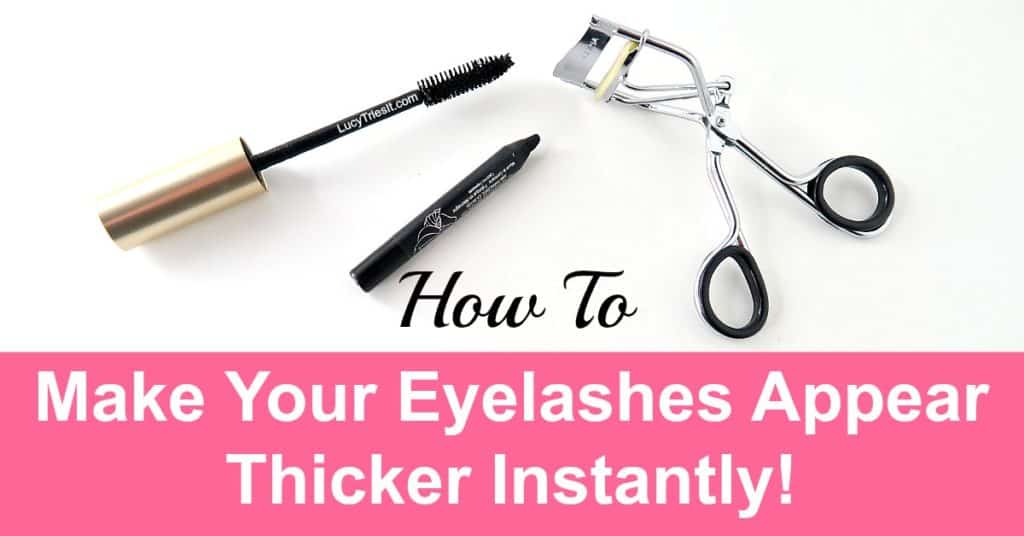 Hey girl, affiliate links are provided to help you find the products mentioned in this post.
Make Your Eyelashes Look Thicker Instantly
So when it comes to my eyelashes, I wasn't exactly blessed.  They're not long.  They're not thick.  They're just blah.  Heck, you can't even tell I have any unless I curl them and then you can barely see them as it is.  Are you in the same boat?  Are you constantly trying to figure out how to make your eyelashes look thicker?
I know the struggle girl.  Luckily, I have found a super quick little trick that actually makes your eyelashes look thicker instantly!  And like always, I'm here to share the secret with you 😉
THIS IS THE SECRET WEAPON.  KEEP READING TO FIND OUT HOW TO USE IT FOR THIS TRICK!
What You Need To Make Eyelashes Look Bigger
There are just three things you'll need to make eyelashes look bigger.  If your lashes aren't naturally curly, you'll want to have an eyelash curler.  Obviously, you'll need your favorite mascara.  Lastly, you'll need the secret weapon – black eyeliner.  You'll want to use a waterproof eyeliner for this.
Brilliant Beauty Eyelash Curler – Award Winning
NYX Professional Makeup Slide On Pencil, Jet Black
L'Oréal Voluminous Original Carbon Black Waterproof Mascara
Related Article:  What's The Blackest Mascara Ever?
How To Make Your Lashes Look Thicker Instantly
This trick is so simple it's not even funny.  Basically, it involves a makeup method called tightlining.  Tightlining is simply lining your upper waterline and right in between the roots of your lashes.  That's it.
I'll show you how.  Here are the quick steps I follow to make my eyelashes look thicker.
Step 1 – Curl Lashes
Since my lashes are super straight, I curl them first.  This also allows me to have a clearer view of my upper waterline.

Step 2 – Apply Mascara
Next I apply mascara as I normally do.  I like using a really black mascara to give my lashes the most intensity.  Alternatively, you could tightline first, then apply mascara.  It's up to you.
Related Article:  How To Apply Mascara Without Clumping
Step 3 – Tightline
Once I'm done with the mascara, I go ahead and fill in my upper waterline.  I then gently fill in the little tiny spaces in between my lashes.   Bam, my lashes look thicker already in just a few seconds.
You could also get away with just filling in the waterline if you don't have time to fill in between the roots of your lashes.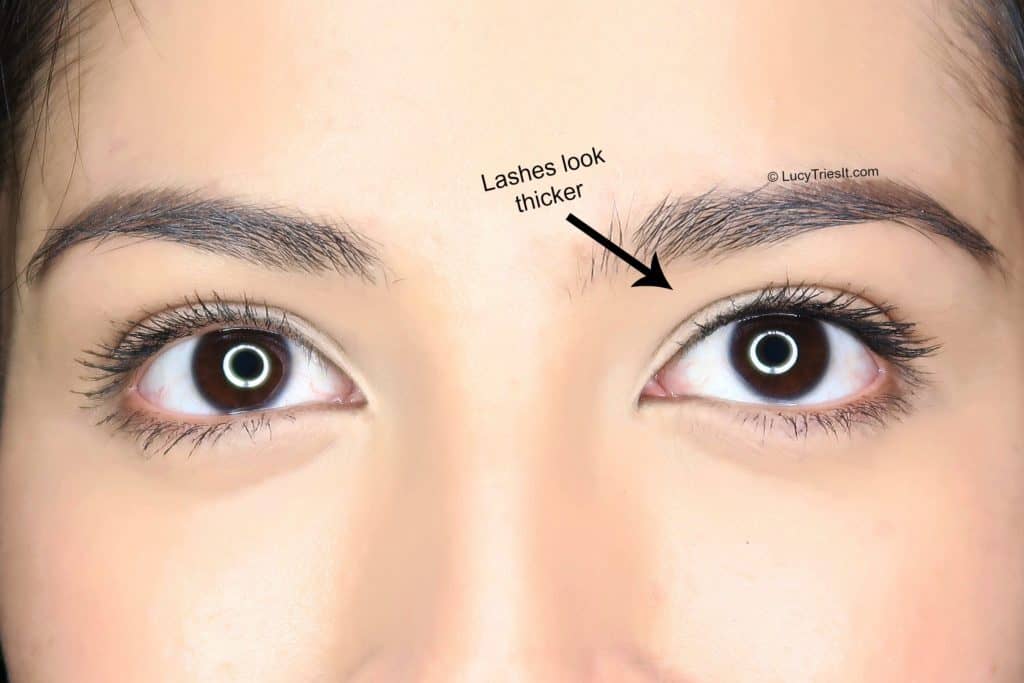 When you fill in the upper waterline it instantly gives the appearance of fuller lashes.  I think it's because it makes your lash line appear thicker, which gives the illusion of more lash hairs at the base, therefore fuller lashes.  Pretty neat huh?
Related Article:  The Easiest Technique To Apply False Eyelashes Yourself
Super Easy Way To Make Eyelashes Look Bigger
As you can see, this trick to make your eyelashes look thicker is super quick and easy.  Who would have thought that just filling in the upper waterline would have such an effect?  Try it next time and you'll be quite pleased at the difference it makes 😉
If you want to really give your eyelashes some volume, you can also try using a lash primer.

Related posts: