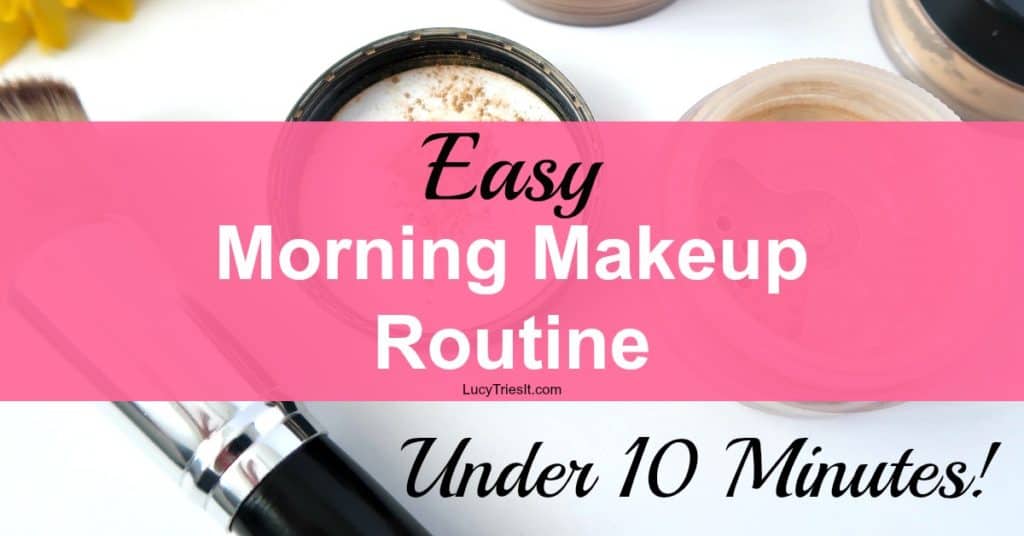 Hey girl, affiliate links are provided to help you find the products mentioned in this post.
Easy Morning Makeup Routine
Ok listen, when I was younger I would wake up two hours before I had to leave for work so I could get ready.  I confess, I would spend way too much time on my makeup.  Fast forward to now, I'm all about a super fast and super easy morning makeup routine that will allow me to sleep in as much as I can.
The truth is, you don't really need to go all out with your makeup for work.  You can still have nice makeup without spending so much time on it.
So here's how you're going to accomplish your easy morning makeup routine under 10 minutes!
Simple And Easy Morning Makeup Routine 
Step 1 – Prime
First up, you're going to prime because you want your foundation to last through your workday.  I like using a super smooth and quick drying primer.
bareMinerals Original Prime Time Foundation Primer
Step 2 – Foundation
I recommend a powder foundation because it's super fast to apply, which is perfect for busy mornings.  I like using a mineral foundation like this one because it leaves a nice, luminous glow.  That's nice to have when your makeup is minimal.
Using a flat kabuki brush, just swirl the foundation around your face and you're all set.
Bareminerals Original SPF 15 Foundation
Foundation Makeup Brush Flat Top Kabuki for Face
Related Article:  The Best Mineral Foundation For Acne Prone Skin
Step 3 – Concealer
To conceal the under eye area, you'll want to use a super blendable concealer.  This will makeup your concealer application much quicker.  I also recommend applying it with one of these blending brushes.
Maybelline New York Fit Me! Concealer
Sigma Beauty Soft Blend Concealer – F64
Step 4 – Powder
Next, you can set your entire face with a mattifying powder.  I recommend this especially if you have oily skin since you want your makeup to last throughout the day.  A quick dusting with a large powder brush will do the trick.
MAKE UP FOR EVER Super Matte Loose Powder Translucent
Real Techniques Cruelty Free Powder Brush
Related Article:  The Best Type Of Face Powder For Oily Skin
Step 5 – Bronzer
This step is optional, but still fits within your 10 minute routine.  You're not going to carve out our cheekbones and do a dramatic contour.  There's no time for that.  What you'll do is use an angled face brush to lightly sweep the bronzer on your face in the shape of a three (temples, under the cheek bones, and on the jawline).
This will allow you to bring some dimension to your face without having to spend a lot of time contouring.
theBalm Bahama Mama Bronzer
Bareminerals Angled Face Brush
Step 6 – Blush
For blush you want to go with powder blush because they're faster to apply and easier to blend.  I like to use a blush that has a little shimmer since I skip the highlighter for my easy morning makeup routine.  I also opt for a pretty natural, versatile shade.
MAC Mineralize Blush – Warm Soul
Step 7 – Define Crease
Since you're trying to keep this morning makeup routine easy and quick, you're actually going to skip the eyeshadow (sort of).
You're just going to define your crease a bit.  To keep it quick, you'll use a small crease brush and add a little bit of your bronzer.  Lightly blend it into your crease to add some definition.  That's it.
Step 8 – Mascara And EyeLiner
Next you're going to add some mascara.  If you'd like, you can also quickly curl your lashes.  For eyeliner, you're just going to line your upper waterline.  Lining the upper waterline is quick and adds some definition.  Plus it also makes your lashes appear thicker.  Trust me, it works.
L'Oréal Voluminous Original Carbon Black Waterproof Mascara
NYX Professional Makeup Slide On Pencil, Jet Black
Related Article:  How To Apply Mascara Without Clumping
Step 9 – Eyebrows
Eyebrows can sometimes take some time if you're going for a really defined, dramatic brow.  But that's not necessary for this simple look.  What you'll do instead is use an eyebrow powder to quickly fill in your eyebrows naturally.
Anastasia Beverly Hills – Brow Powder Duo – Dark Brown
Duo Eyebrow Brush by Keshima – Angled Brow Brush & Spoolie
Related Article:  Super Quick Way To Fill In Eyebrows Naturally For Busy Mornings
Step 10 – Lips
For lips, I recommend a tinted lip balm.  They're lightweight, low maintenance, and you can apply them quickly without worrying about lining your lips.
I love the wet n wild balm stains because they're super affordable.  They come in a lot of different shades so you can have a few and change up the color every day!
WET N WILD Mega Slicks Lip Balm Stain – Coral of the Story
WET N WILD Mega Slicks Lip Balm Stain – Caffeine Fix
WET N WILD Mega Slicks Lip Balm Stain – Rico Mauve
Related Article:  Wet N Wild Lip Stain Review & Swatches
Step 11 – Makeup Spray
Last but not least, you can quickly mist some makeup spray to help your makeup stay fresh through your workday.  This one is my absolute favorite one right now.
Urban Oil Control Makeup Setting Spray, 30ml (1 fl. oz)
L'Oréal Paris Infallible Pro-Spray + Set Make-Up Setting Spray
NYX Make Up Setting Spray, Matte Finish/Long Lasting
Related Article:  How To Extend The Wear Of Your Makeup With The L'Oreal Makeup Setting Spray
Simple Daily Makeup Routine Under 10 Minutes
This is literally my go to makeup routine for busy days.  It is a super easy morning makeup routine that you can get done in 10 minutes or less!  That means, you can stay in bed a little bit longer.
So go ahead and hit that snooze button, girl 😉
Related posts: