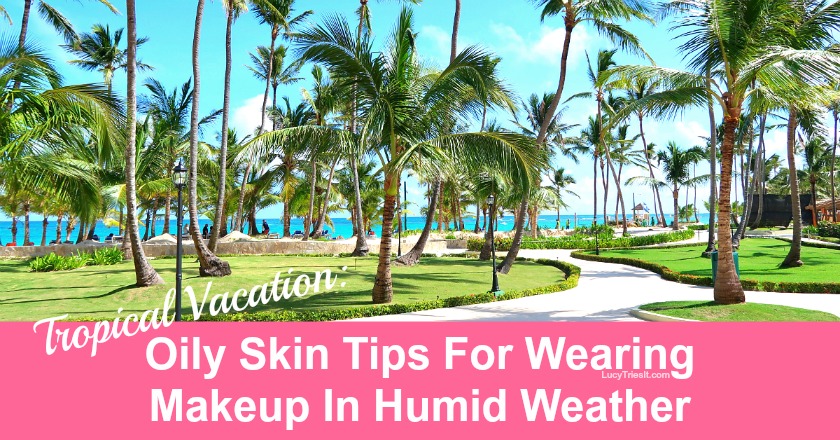 Hey girl, affiliate links are provided to help you find the products mentioned in this post.
The Dilemma Of Wearing Makeup In Humid Weather 
Going on a tropical vacation?  Worried about how your makeup will hold up against the humidity?  Wearing makeup in humid weather can be such a pain.  Having oily skin and wearing makeup in humid weather is even worse!  Am I right?
Not only do you have your usual oily skin greasiness,  but you also have to deal with the humidity on top of that.  It's like the perfect recipe for a makeup disaster.
Sure, you can go without wearing any makeup.  It's quite comfortable.  But c'mon, who are we kidding – you love makeup!  You want to look good especially since you'll be taking a ton of pictures during your vacation in paradise.  Let's face it, you love your glam.
The great news is you can certainly make it work with these tips for wearing makeup in humid weather!
Two Things to Make Makeup In Humid Weather Work…
There are two things I want you to remember when it comes to having oily skin and wearing makeup in humid weather – long wear formulations and waterproof.  Anything else will not cut it – period.
Trust me, I have traveled to tropical climates several times and have tested all sorts of products.
If you have oily skin, long wear formulas and waterproof formulas are the only way to go when wearing makeup in humid weather.
Oily Skin Tips For Wearing Makeup In Humid Weather
Tip #1 – Oil Control Skincare
Good makeup starts with good skincare.  Make sure you start with a clean face.  Use a good cleanser that removes dirt, oil, and makeup but doesn't leave your skin feeling too dry.  I find that drying cleansers will cause my skin to produce even more oil.
Next use a skin balancing toner to help reduce pore size.  Follow that with your favorite moisturizer.  Yes, you still have to moisturize even in humid weather.
Lastly, make sure your sunscreen is not super greasy.  Go with a lightweight formula that leaves a matte finish, like this one.
Purpose Gentle Cleansing Wash, 12-Ounce Pump Bottles

Paula's Choice SKIN BALANCING Pore-Reducing Toner

Neutrogena Clear Face Liquid Lotion Sunscreen

Tip #2 – Prime The Face
Primer helps create a nice base for your makeup to adhere to and it allows your foundation to last longer.  I like using a primer that minimizes pores because I find that helps to keep the oiliness down.  The Smashbox Pore Minimizing Primer is great because it leaves my skin matte without feeling dry.
Two other options for oily skin that have been recommended over and over again include the Becca Ever-Matte Poreless Priming Perfector and the Hourglass Veil Mineral Primer.
Smashbox Pore Minimizing Foundation Primer

BECCA Ever-Matte Poreless Priming Perfector

Hourglass Cosmetics Veil Mineral Primer SPF 15 1 fl oz.

Tip #3 – Apply Long Wear Foundation
When it comes to oily skin and hot, humid weather, foundations with long wearing formulations are the way to go.
I like the Nars All Day Luminous Weightless Foundation because it's lightweight, offers full coverage, and lasts all day.  It's the one I wore the whole time in Punta Cana this year.
Some other long wear foundations to consider include Estee Lauder Double Wear and Dior Forever Perfect Foundation.
NARS All Day Luminous Weightless Foundation

Estee Lauder Double Wear Stay-in-Place Makeup

Christian Dior Skin Forever Perfect Makeup

Here's a more in depth review of the Nars foundation I wore on my tropical vacation this year.
Tip #4 – Use Long Wear Concealer
Your concealer should also be a long wear formula.  MAC Pro Longwear Concealer is an excellent option.  Make Up Forever has a waterproof concealer that works very well on oily skin.  Another great option is Nars Radiant Creamy Concealer.  I recently tested it on my trip and was very pleased with its performance in hot, humid weather.
MAC Pro Longwear Concealer ~NC20~

NARS Radiant Creamy Concealer, Vanilla

MAKE UP FOR EVER Full Cover Concealer

For a drugstore option, this Maybelline concealer is great for oily skin.
Tip #5 – Set With Silica Based Powder
Silica based powders are excellent for oil control, which is what you'll want for your tropical vacation.  Most HD powders are silica based.
NYX Cosmetics Studio Finishing Powder Translucent Finish, 0.21 Oz

MAKE UP FOR EVER HD Microfinish Powder 0.30 oz

e.l.f. Perfect Finish HD Powder Sheer, 0.28 Ounce

Keep in mind that HD powders can cause flashback in flash photos.  If you are worried about that, check out this alternative.
Tip #6 – Apply Long Wear Bronzer & Blush
I recommend using a bronzer with a matte finish.  This bronzer by Tarte is great for oily skin.  For blush, I like the Tarte Amazonian Clay 12 Hour blushes because they are long-lasting on oily skin.
Another product to consider is The Balm Instain Blush as it actually stains the cheeks for long lasting color.  I've seen really great reviews for this on Amazon and it comes in several shades.
Tarte Matte Waterproof Bronzer

Tarte 12-Hour Blush

theBalm INSTAIN Blush

Tip #7 – Dab On Some Paula's Choice Shine Stopper
This is optional, but if you have really oily skin you may want to consider trying this product.  I like dabbing  some of this over my T-Zone, especially if I'm in a very humid climate.  Make sure to check out how to properly use it here.
Paula's Choice Shine Stopper Instant Matte Finish With Microsponge Technology

Tip #8 –  All Eye Makeup Should Be Waterproof
When it comes to your eye makeup, try to use only waterproof products.  At the very least, your mascara and eyeliner should definitely be waterproof.  There's just something about humidity and the eye area that will cause anything less than waterproof to melt and smudge leaving you with some nice raccoon eyes.
For eyeliner, I recommend Kat Von D Tattoo Liner.  It just holds up really well in hot, humid weather.  For mascara, there are ton of waterproof options to choose from.  I used the L'oreal Voluminous Original Waterproof Mascara on my trip and loved it.
Kat Von D Tattoo Liner Trooper 0.55 ml/0.019 oz

L'Oreal Voluminous Original Waterproof Mascara -Carbon Black

If you plan on wearing eyeshadow, I highly recommend long lasting cream formulas like the Maybelline 24 hour Tattoo Eyeshadows.  These are just excellent for oily skin!
And let's not forget the brows.  I have noticed that eyebrow makeup in humid weather tends to fade very easily.  I definitely recommend using a waterproof eyebrow pomade and a clear eyebrow gel over that to keep those brows in place.
Maybelline 24 Hour Eyeshadow

Anastasia Beverly Hills Dipbrow

Milani Brow Shaping Clear Gel

Tip #9 – Use Long Wear Lipstick or Lip Stains
When I'm in a hot, humid climate I tend to opt for lightweight lip products.  Lip stains are great because they don't feel super heavy and leave a nice stain on the lips that lasts a long time.  I like the Wet N Wild Balm Stains.  The Pixi Tinted Brilliance Balms are great too.
If you want to wear lipstick, go with a lightweight, long-wearing matte formula.
WET N WILD MegaSlicks Balm Stain

Pixi Tinted Brilliance Balm

KVD Everlasting Liquid Lipstick

Need a review of the Wet N Wild Balm Stains?  Click here!
Tips #10 – Mist Face With An Oil Control Makeup Extender Spray
Makeup spray is a must when wearing makeup in humid weather.  Make sure it is specifically made for oily skin because some makeup sprays will give you a dewy finish.
An oil control makeup spray will not only help control your oil, but will keep your makeup from smudging, sliding or fading in humid weather.
Urban Decay Deslick Makeup Setting Spray is an excellent choice for oily skin.
Skindinavia also has an oil control setting spray.  Another option to consider is the Ben Nye Final Seal Makeup Spray.  I haven't tried that one myself, but have heard it works extremely well for oily skin.
Urban Decay Oil Control Makeup Setting Spray

Skindinavia The Makeup Oil Control Finishing Spray

Ben Nye Final Seal- Matte Makeup Sealer Spray

Tip #11 – Oil Blotting Sheets
Oil blotting sheets will be your best friends in humid weather.  These blotting sheets are great because they absorb oil without disturbing your makeup.
Clean & Clear Oil Absorbing Sheets, 50 Count

Natural Bamboo Charcoal Oil Absorbing Tissues – 100 Count

Neutrogena Deep Clean Shine Control Blotting Sheets, 50 Count

The Best Tips For Wearing Makeup In Humid Weather
When it comes to wearing makeup in humid weather, it may seem like an impossible task especially if you have oily skin.  However, you can really make it work with these tips.
Keep in mind that you will get dewy at some point.  I'm just keeping it real with you.  It's gonna happen because when you're in a tropical climate, the humidity is no joke.  However, even if you get dewy, oily or sweaty, you can make sure your makeup will still stay in place throughout the day without melting off.
Check out my picture below from Punta Cana.  You can tell my face is looking pretty dewy, but my makeup is still intact.
It was humid as heck in Punta Cana by the way.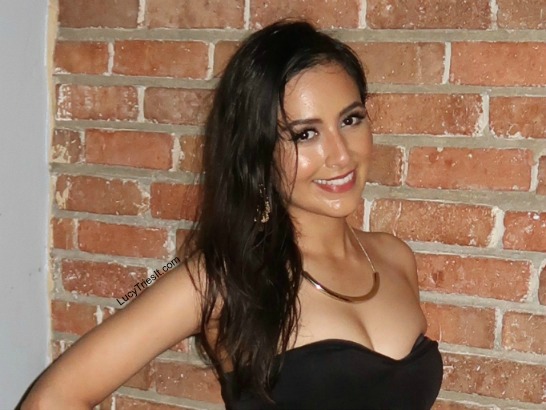 Girl, at the end of the day you're going to look amazing in all your vacation pictures 😉
So go ahead and get your vacation glam on!
Related posts: